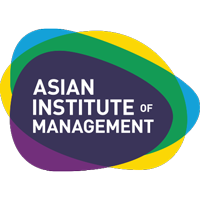 STUDENT PARTNERSHIP
Our services are geared towards preparing the students become workforce ready as they graduate. Students are empowered through different career management activities anchored in the 4-step career strategy, a holistic approach to helping students towards achieving their career goals.
ON-CAMPUS RECRUITMENT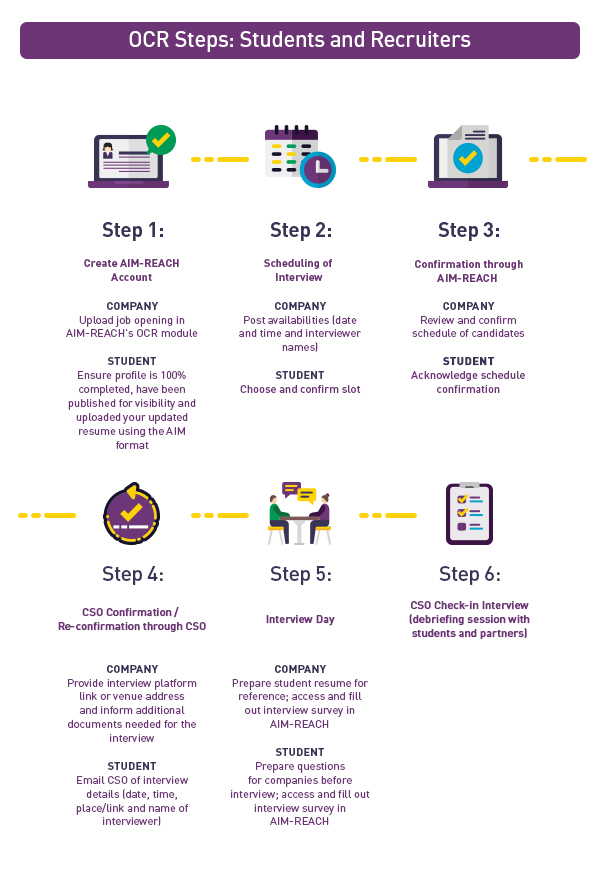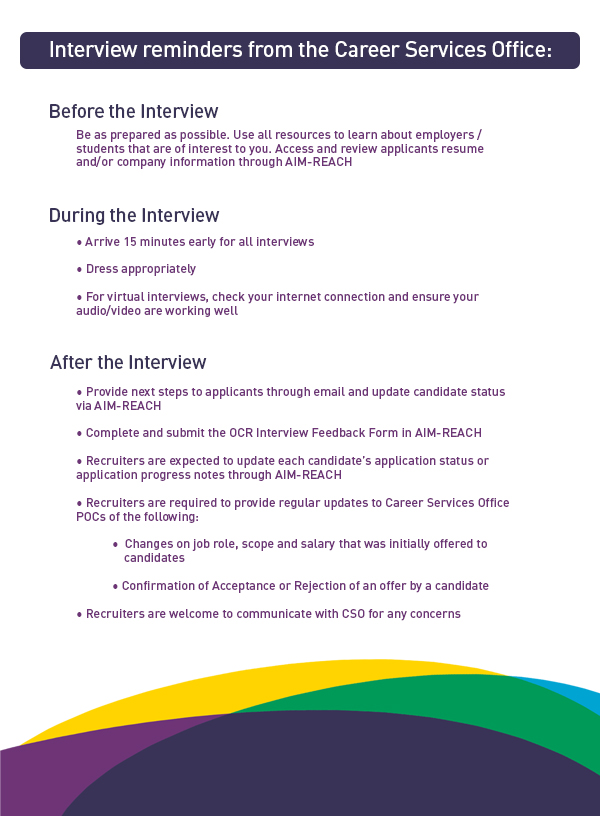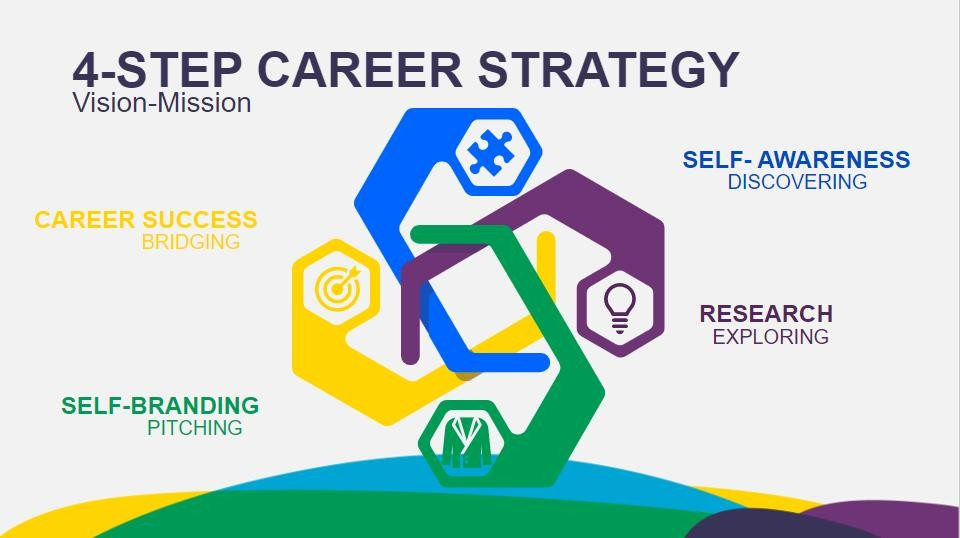 SELF-AWARENESS
Knowing yourself is the first step and most important step in creating your career strategy. Having self-awareness means that you have a sharp realization of your personality, including your strengths and weaknesses, your thoughts and beliefs, your emotions, and your motivations.
If you are self-aware, it is easier for you to ​​​​​understand other people and detect how they perceive you in return.
CSO has a tool that can help students within their self-awareness stage.
The future can mean different things to different people.
The first step in career planning involves a great deal of self-reflection and assessment.
AIM CSO can help you to gain greater self-awareness in areas such as interests, values, abilities, and personality style.
Self-awareness will help you to shortlist potential career choices.
Services under Self-Awareness:
Assessment Tool
One-on-one Career Coaching
Career Strategy Plan
RESEARCH
The second step seems to be very basic but, always being overlooked as a vital part of the career planning process. This is all about collecting information about your career options, exploring and getting insights.
The next step is to research your career choices
You should understand your chosen industry, function and corporate culture
AIM CSO will help provide access to resources on relevant jobs and occupations
Services under Research:
Online Career Resources
Coffee Chats
Networking
Company Presentations
Career Management Session
SELF-BRANDING
At this stage, you should be ready to equip yourself with the right "personal branding" tools, attitude and behavior to appeal to potential employers. This includes resume, cover letter, how you look and act during job interviews.
As you are your own brand, the next step is to package your personal brand for your target employers
AIM CSO can help you meet your lifelong personal development
Services under Self-Branding:
Resume Critique
Mock Interviews
CAREER SUCCESS
Take action and each for your career goals. The last step requires every student's initiative and dedication. Job search sounds easy but challenging in reality.
Employers work with the Career Services Office to offer campus interviews, collect resumes and list positions throughout the year
Participate in career fairs, career management talk and learning sessions
Extend your job search beyond the campus for best un-advertised jobs
Services under Career Success:
Online Career Resources
Career Conference/ Fair
Job Alerts
Job Board
Endorsements to partners
ONE-ON-ONE CAREER COACHING
The Enhance Community Quarantine and lock downs did not stop the Career Services Office (CSO) when it comes to one-on-one career coaching and resume critique sessions with the 2019 graduates and current students across degree programs. CSO saw the importance of being able to discuss its stakeholders' concerns, to create a workable career plan and strategy in these unsettled times.
Most sessions are held via Zoom meetings, mobile call, WhatsApp or Viber calls.
Common Points of Discussions:
Resume and cover letter guide and reviews
Career guidance and exploration
Job search strategies
Interview preparation tips
CAREER MANAGEMENT RESOURCES
VAULT
Whether you are just entering the workforce, making a lateral career move or considering a career change, Vault.com is more than just reviews, it provides the intelligence you need for the career you want—search current job openings, research a company, school or industry, get the inside scoop on what it's really like, and find the career advice you need to launch your career.
LINK: https://aim.firsthand.co/
ACCOUNT LOGIN:
Welcome email from Vault will be sent directly to students' email.
HIGHERED
With more than 1,000 members across 91 countries, Highered efficiently connects top companies and professionals to promote and enhance excellence in management development. Be part of the global network in your journey as you advance in your career.
LINK: https://highered.global
ACCOUNT LOG IN:
https://talent.highered.global
Students will need to create their own profile accounts.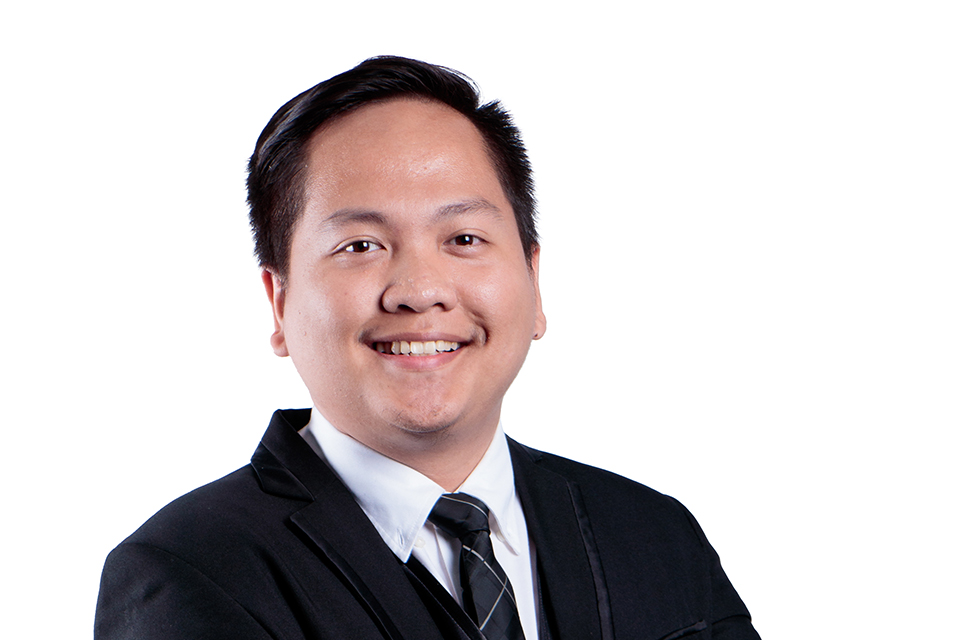 "As part-time students coming from diverse backgrounds, it's challenging for us to meet on a common ground; but with the conducive and sup...