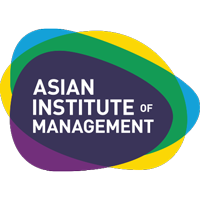 AIM EDGE
The Career Services Office has concluded the AIM Edge Program 2020, a curated series of sessions facilitated by our very own leadership brand strategist, Prof. Harini Chari, to help the MBA students to take charge of their personal brands.
AIM EDGE is a cohesive inbuilt career management program that will allow the students to stand out, contribute beyond the expected and bring tangible values to the evolving needs of the different industries. The objective of this course is to help them target the career they want after graduation by positioning themselves in a profitable perspective.
What awaits the students on the next sessions are exciting chances to be able to practice what they have learned through CSO's upcoming events, career coaching, networking sessions and mock interviews.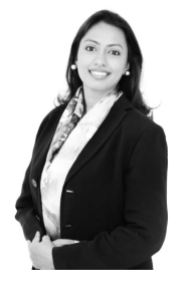 "By owning their stories and connecting the dots between their values, passions and goals, students can now take charge of their digital footprint and better express themselves across online and offline platforms. The program started with an informal focus group discussion with key industry partners, to understand their expectations of the AIM candidate. Based on these findings, training sessions were crafted to help students differentiate themselves around their niche 'benefits of value'."
Coca-Cola Career Talk at AIM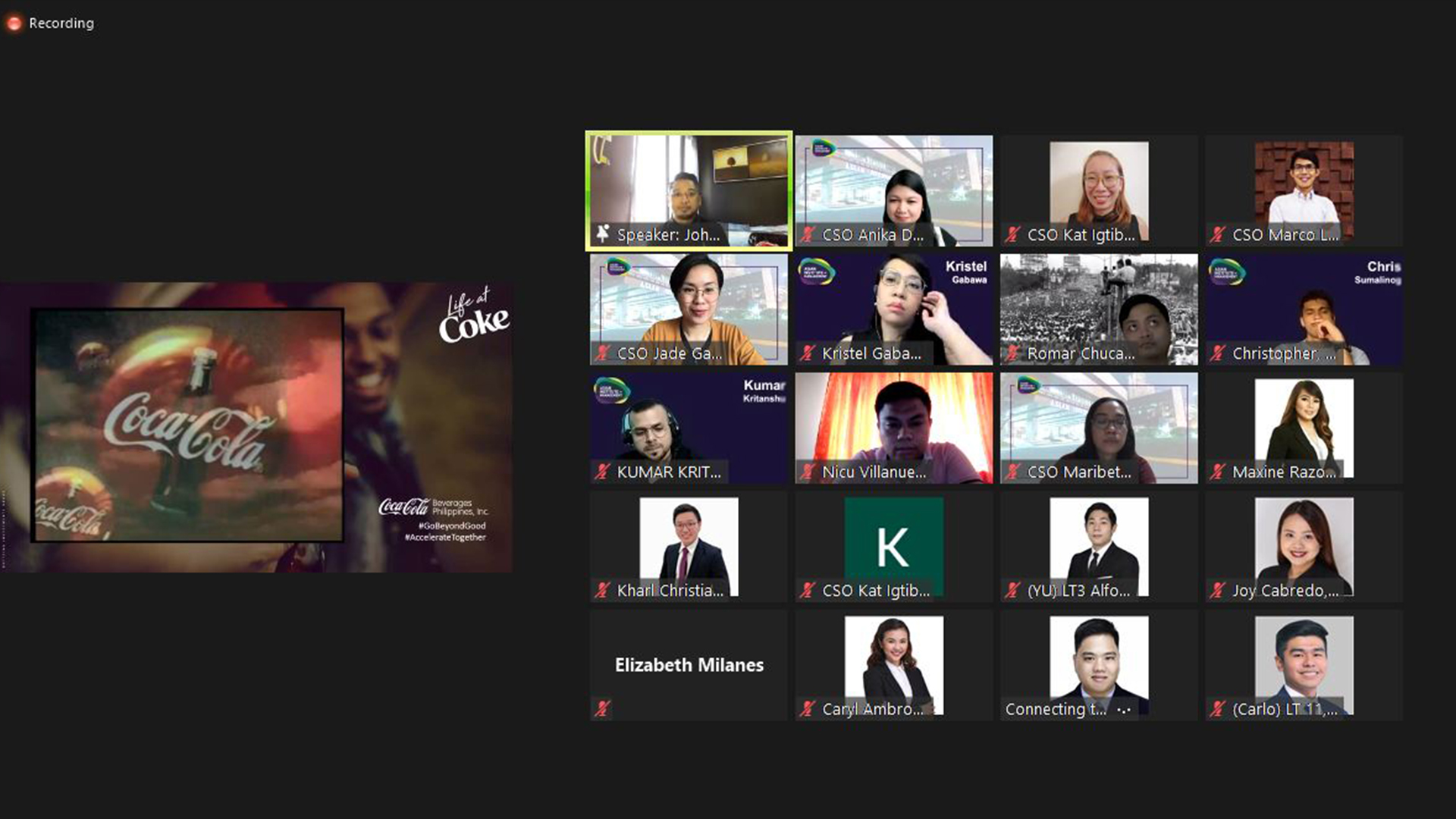 February 24, 2021
The Career Services Office hosted a Career Talk last February 24, and invited the Coca-Cola Beverages Philippines, Inc. (CCBPI) as an employer of choice of AIM graduating students. The company was represented by John Bondoc, Talent Acquisition Manager, who has been in the recruitment and talent acquisition industry for more than 10 years.
The talk offered an opportunity to learn about the story of Coca-Cola, from its humble beginnings to its immense growth in the industry. The company embraces a "people-first" mindset, prioritizing the safety and protection of all employees.  This was especially evident when the pandemic hit, as the company extended outreach efforts to frontliners, including the communities where they operated.
The engagement with the students primarily focused on career explorations at Coca-Cola. Questions about the job application process, critical roles within the company, and career opportunities for data science as well as international students, were all graciously fielded by Mr. Bondoc, as he encouraged them to apply directly through Coca-Cola's LinkedIn Page and Careers Website. 
In keeping with the company's culture, Coca-Cola looks for promising talents with good communication and analytical skills, those who are resilient and possess strong learning agility and leadership capabilities with a hunger for results, as well as those with project management skills who can effectively work with teams.
Suitability in a job role is just as important as the culture-fit in an organization, and the Career Services Office (CSO) emphasizes this during career talks.  These events will also eventually include networking breakout sessions that will help enrich the interaction between AIM students and industry partners.
AIM Mentorship Program Event Launch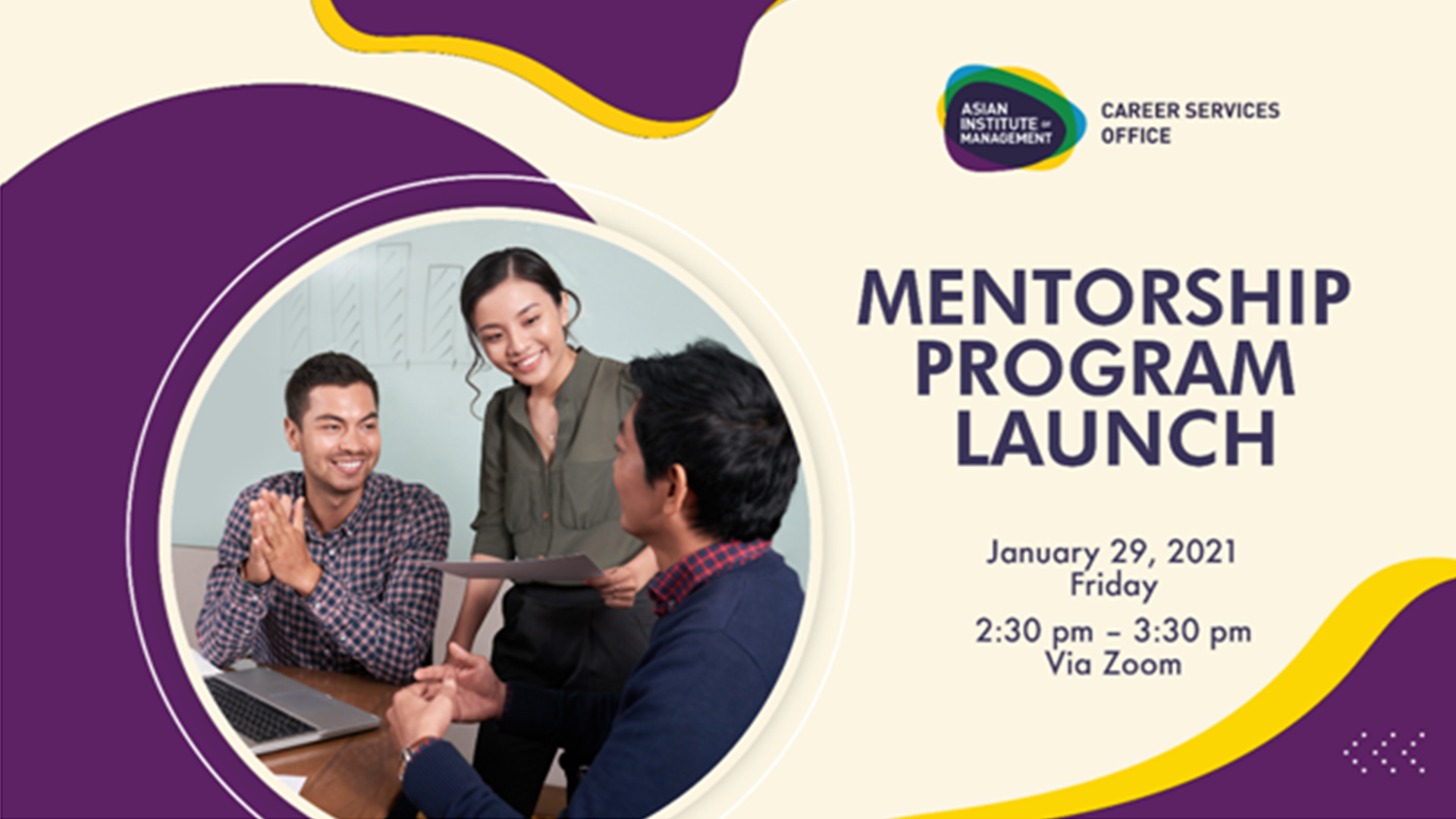 January 29, 2021
On the 29th of January, the Career Services Office brought together 9 Industry mentors and 11 mentees to kick off a collaborative Mentorship Program via Zoom. Each of the industry mentors was very keen to show commitment in helping their student-mentees from AIM develop their careers and leadership qualities to become better leaders for the future.
The aim of this program is to provide young professionals (as mentees) an opportunity to directly engage with experienced industry professionals (as mentors) to discuss challenges in their early careers and to draw upon the mentor's experiences, wisdom, and industry knowledge.
Mentorship Program Project Leader, Marco Cabrera provided an overview of the roles of Mentees and Mentors, key program milestones and timelines, availability of mentoring tools, and support.
Also present at the event were the ARO Director, Bernie Jiao and DBI Director Prim Paypon.
Meet our Industry Mentors: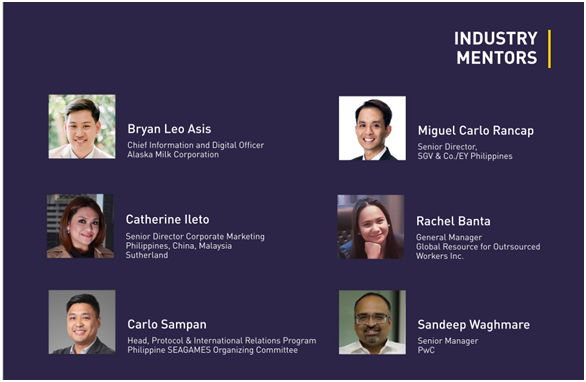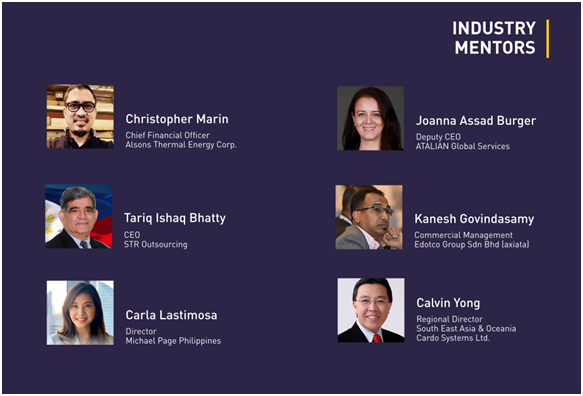 Meet our AIM Mentees: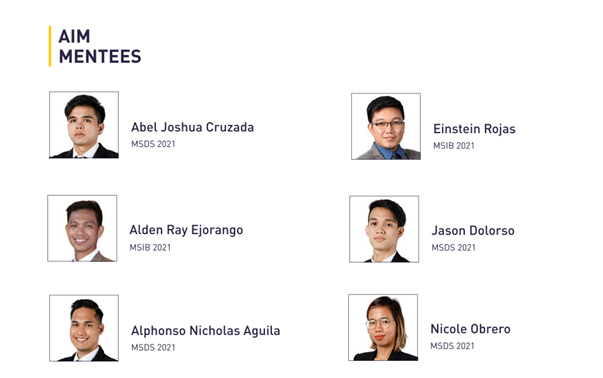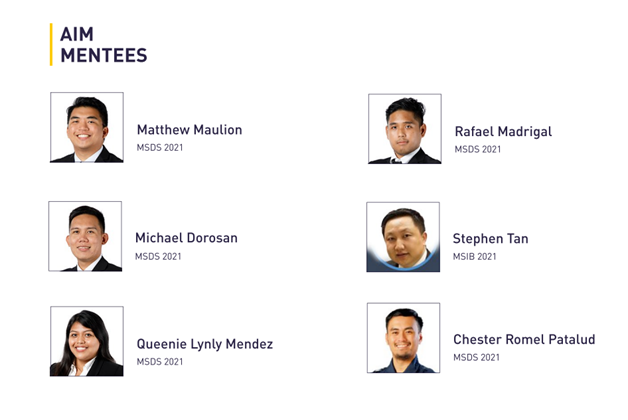 Session Pictures: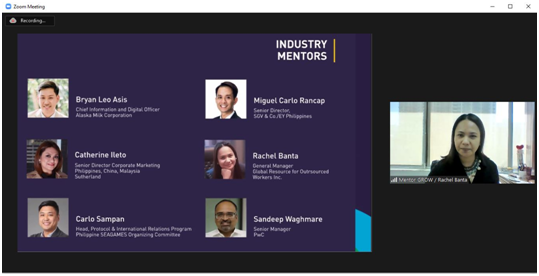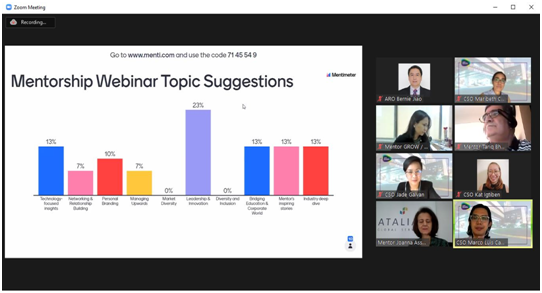 CSO Launches Championing Your Career 

Pilot 

Program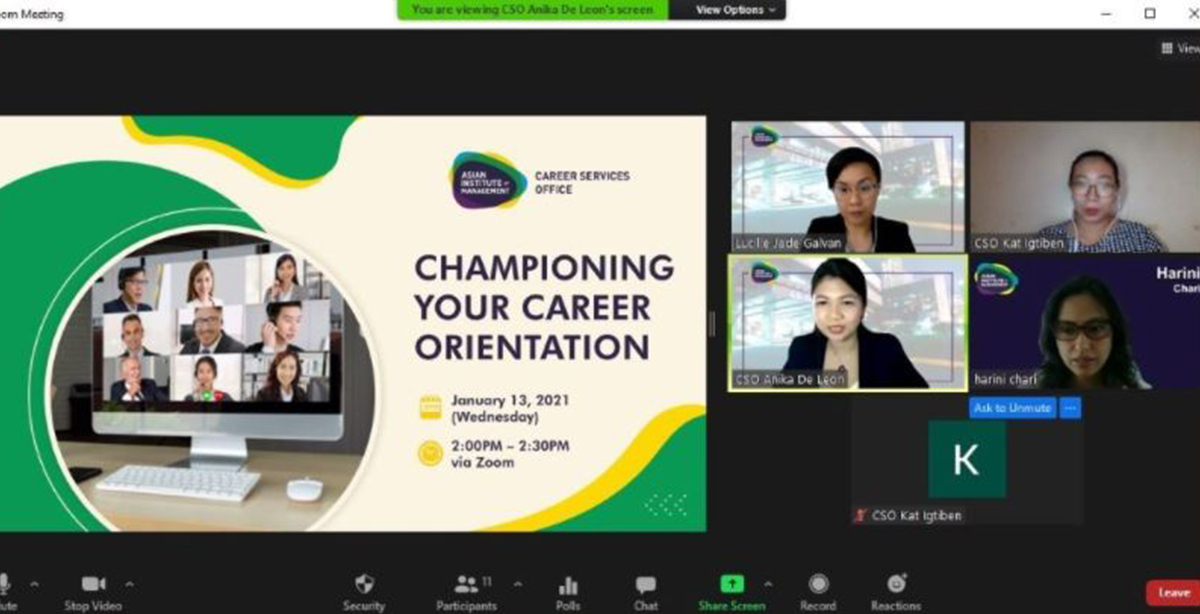 January 13, 2021
The Career Services Office (CSO) of the Asian Institute of Management launched its first official career management program called "Championing Your Career" (CYC) on January 13, 2021, that aims to engage students in a thoughtful lifelong career planning. 
The CYC Program lecture series is exclusively available for the MBA Class of 2021, while panel events, speed networking, and practice sessions are offered across programs. Sessions are held virtually, providing interaction among participants, industry leaders, and AIM faculty experts on a global scale. 
"This year of your MBA, it's not just a deep dive in your learning, but this is the most active year prepping yourself for what you want after," according to Prof. Harini Chari, the CYC Program Faculty Lead. "And the end of this year, success will translate to how much time you've carved out to understand yourselves a bit better. To communicate that and committing to intentionally nurturing your network –that's when your network can generously help you when you actually need it." 
"The good news is that all of you have had more than an introduction to your leadership personal brands and had the opportunity to start your brand stories and fix your narratives. Now, Championing Your Career is the continuation of that journey. We will pick up from that point of your brand story and how it can be enhanced, how it can be leveraged, and how it can be kept resonant– that's key. I am very excited for you all to go through the program, and I invite you to construct your own meaning from these experiences," she adds. 
During this pandemic, it's certainly challenging to maintain a good focus on career readiness. It is important that jobseekers in the cohort are well–guided to make the right choices. In the Championing Your Career Program, participants will get a clearer view of their career aspirations with a broad understanding of the current and future job trends and skills. Participants will be provided with opportunities to gain awareness of, explore, and develop their own interests, values and skills.  Topics to be covered range from self-assessment to personal branding, communications, career research, resume development, interviewing skills, job lead generation and strategies, to salary negotiations culminating in job-readiness.  
With the evaluation of AIM's Assurance of Learning, quality and relevance to AIM class delivery is ensured. Supporting the launch were WSGSB School Head and Director, Felipe Calderon and Jose Gerardo Santamaria, respectively, together with their program team composed of Daniele Coronacion, Corazon Manalo, and Jaysel Reyes. The event was also graced by the CYC faculty lead, Harini Chari. 
"You might say that this (referring to the pandemic) is a bad time. It is a bad time, but this is also a great opportunity for you to stand out. And you can only do that by careful planning," stated by Prof. Gerry Santamaria. "We believe that the Championing Your Career Program that CSO has launched will help you. Please take advantage of this opportunity! They have worked with us, even if you're tired, just try and attend it, do the things that are required of you, complete it and be active," he re-emphasized to the MBA students in an encouraging tone. 
Indeed, the success of Championing Your Career relies heavily on the students' active participation and early ownership of their careers. Once successfully pioneered, the pilot program initially offered only to MBA students will also be rolled–out to other degree programs. 
A Career Talk On Shaping Your Career Journey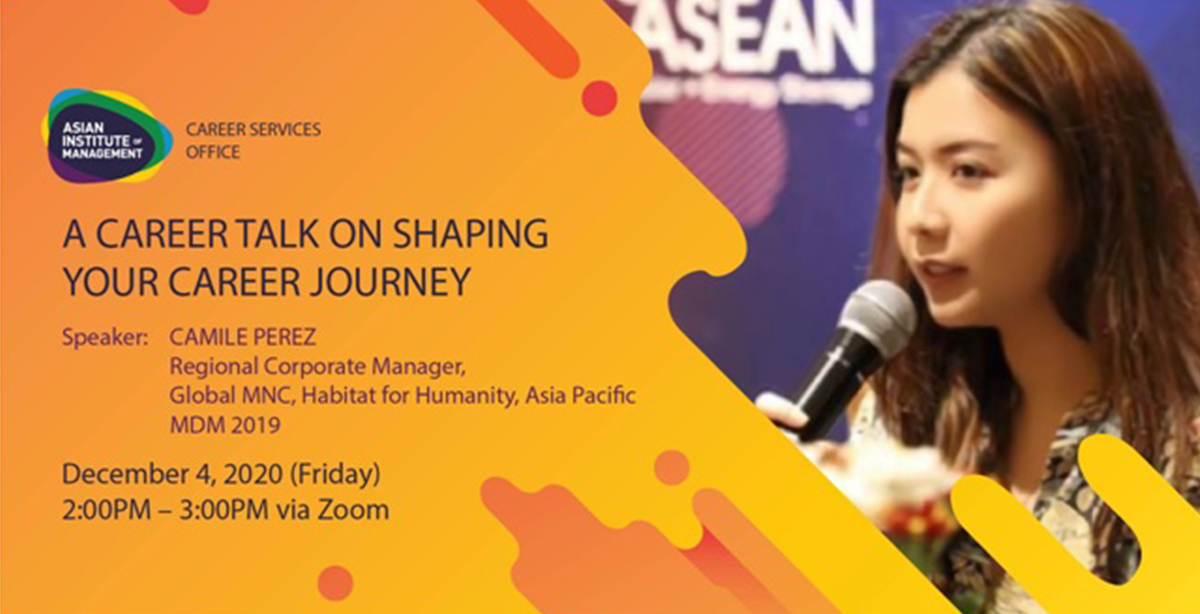 December 4, 2020
Hearing a successful career story first-hand from an AIM MDM 2019 alumna is the best way to motivate and inspire students to own and champion their careers. This is exactly what CSO aims to achieve in organizing these kinds of career management sessions that give both the students and alumni an avenue to connect and network.
On December 4, 2020, the Career Services Office (CSO) invited Camile Perez, an MDM 2019 alumna who is now the Regional Corporate Manager, Global MNC, HFH Asia Pacific of Habitat for Humanity International. Camile landed this much sought-after position through CSO'spartnership with Habitat for Humanity International.
The program was again hosted by CSO Relationship Manager Anika de Leon.CSO Director Jade Galvan introduced the Executive Managing Director of the Alumni Relations Office (ARO), Bernie Jiao, to deliver the opening remarks. CSO invited ARO to strengthen the partnership between the two offices to provide the best possible support to the students and alumni.
Camile began her presentation by sharing her portfolio and her journey to becoming Habitat for Humanity International's Regional Marketing Manager. She gave the students some very practical tips and ways to improve their attitude and skills in finding job opportunities in these times of the pandemic.
The presentation led to an intimate and engaging discussion between Camile and the students. Some of the questions asked were tips on how to pick one's self up after unsuccessfully landing a job as well as finding the jobs that onetruly loves.
Kuder Self-Assessment: Identifying Interests, Skills Confidence and Work Values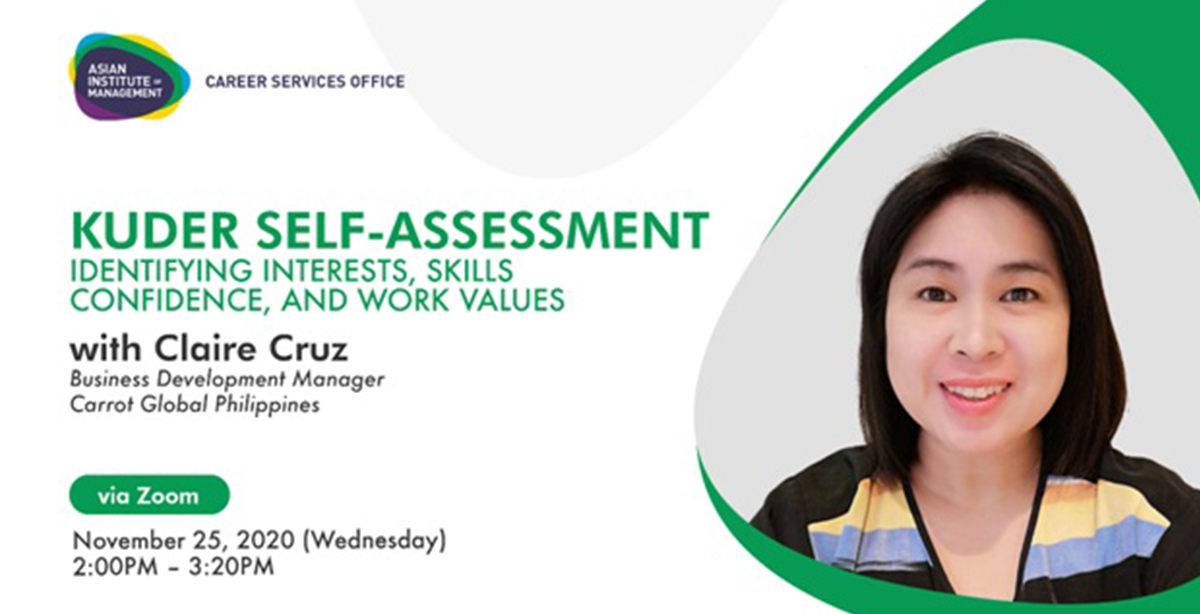 November 25, 2020
The Career Services Office conducted an exclusive Zoom webinar about the Kuder Self-Assessment platform for the MBA 2021 students last November 25, 2020, from 2:00pm to 3:30pm. As a follow uptothe previous Self-Awareness session, the Kuder Self-Assessment aimed to help students discover and analyze their own personalities, interests, skills, and values. The Kuder Career Planning system is designed to provide students with the competency for self-awareness. This foundational understanding of one's personal interests, skills confidence, and work values sets the stage for effective career exploration and the pursuit of meaningful work. 
The session was led by Claire Cruz, a business development manager of Carrot Global, a leading dynamic and practical learning solutions provider originating from South Korea. Prior the session, CSO instructed the MBA students to createindividual accounts in the Kuder platform and accomplish the pre-assessmenttest that will yield a report to be used during the discussion. Claire discussed Kuder's history and theoretical foundations, which are anchored in the Holland Occupational Themes. Holland Codes, typically expressed in 3 letter code, are generated and were shared by the students through the poll questions raised during the discussion. Through the Holland codes, students were able to better appreciate their career interests, skills confidence, and work values which made the discussion more interesting asmost of them were surprised by the career paths Kuder was suggesting. At this point, Claire pointed out the value of  one on one career consultations with CSO for career planning and alignment. At the end of the session, Claire underscored the importance of Kuder as an ideal supplementary guide for experienced adults in career planning and future job search.   
How to Rev-up Your Career and Thrive in the Development Industry During the Pandemic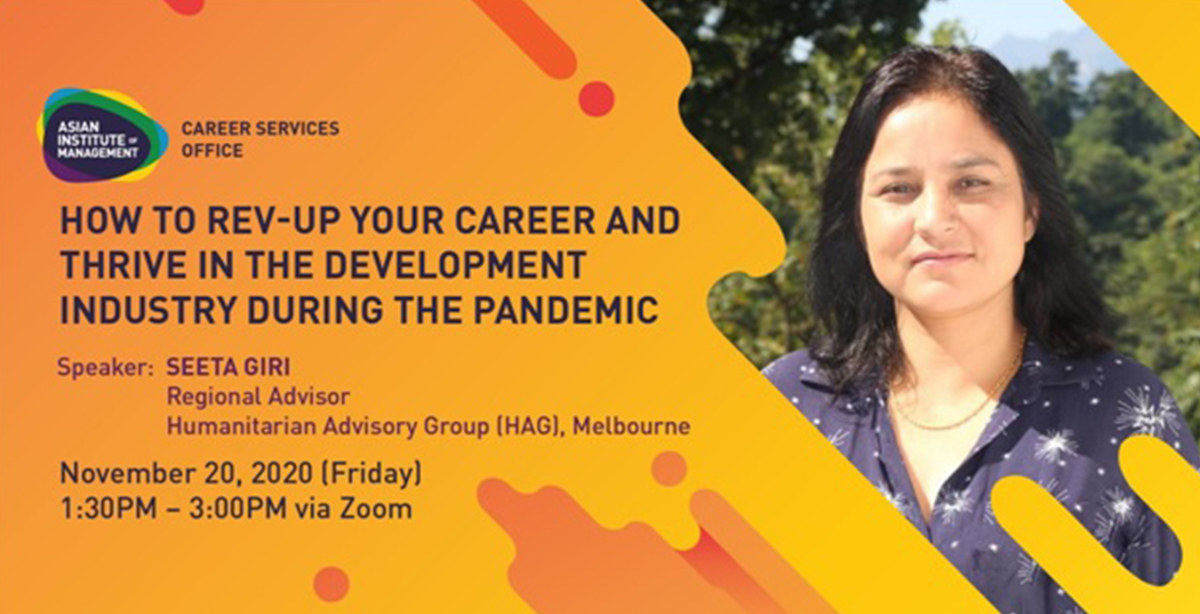 November 20, 2020
As part of the efforts of CSO to give the best support to students, a career management session was organized to provide them with first-hand information from a seasoned development leader on how to penetrate and thrive in the development sector, particularly in the United Nations and INGOs.
CSOinvited SeetaGiri, Regional Advisor, Humanitarian Advisory Group, Melbourne, Australia to share her experience and insights onhow to rev-up one'scareer and thrive in the development industry during the pandemic. The virtual event was held on Friday, November 20, 2020,from 1:30PM to 3:00PM.
The session, hosted by CSO Relationship Manager Anika de Leon, started with CSO Director Jade Galvan giving the opening remarks and sharingher hope for the students to keep an open mind and be guided by the experiences and knowledge of the speaker to break through and thrive in the development industry.
Seeta started the session with her career journey and told the students, "Don't be afraid to take risks and try something very different." She shared her experiences on how she joined the UN and stayed for 20 years before moving to her current role in the Humanitarian Advisory Group in Australia. She traveled to countries such as Afghanistan, Cambodia, Bangladesh, Myanmar, Serbia, Sierra Leone, Nepal, and Pakistan to fulfill her role in the UN, and now, her work has brought her to Melbourne.
Seeta also engaged the students by discussing and giving insights on how to overcome the challenges of being a manager or a leader. She shared some advice on how to transition from one organization to the next and how to effectively manage people. One of the highlights of the discussion involved the UN's statistics, examples and classifications of NGOs and INGOs. Students were able to appreciate the magnitude of the development sector and the numerous leadership opportunities in the sector.
Self-Awareness: Key to Great Leadership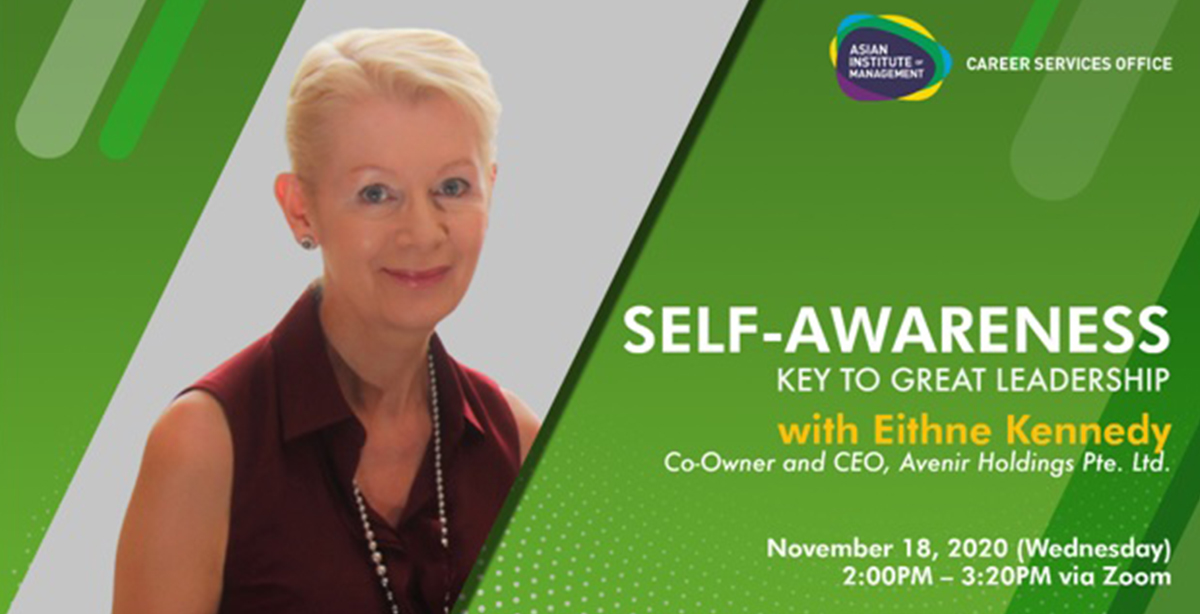 November 18, 2020
"Whatever our goals are, it is important to keep on progressing. Even inching forward is still progress. And true enough, this is also a litmus test on what truly matters to an individual. For those who mind the slow progress or complain about setbacks, then I think their goals are misaligned with their values. The session served as another reminder for me to stay on track with my goals, persevere, and keep moving on. " -MBA 2021 Student 
As we welcome the MBA Class of 2021, the Career Services Office held its first career management session entitled, "Self-Awareness: Key to Great Leadership."  The webinar was held last November 18, 2020 and was well attended by more than 60 MBA students. The discussion was led by Eithne Kennedy, CEO of Avenir Holdings, a management consulting firm based in Singapore and an expert in training business executives through leadership and talent development workshops.  The session was highly interactive as students participated in some poll activities through Mentimeter and actively shared their ideas during the Q&A portion. Eithne successfully incorporated the essence and importance of self-awareness from a business perspective that sparked more interest among the students. Key takeaways such as tough empathy and terminal niceness were among the popular terms that stayed with the participants, as reflected in their feedback results.   
MBA Virtual Mock Interviews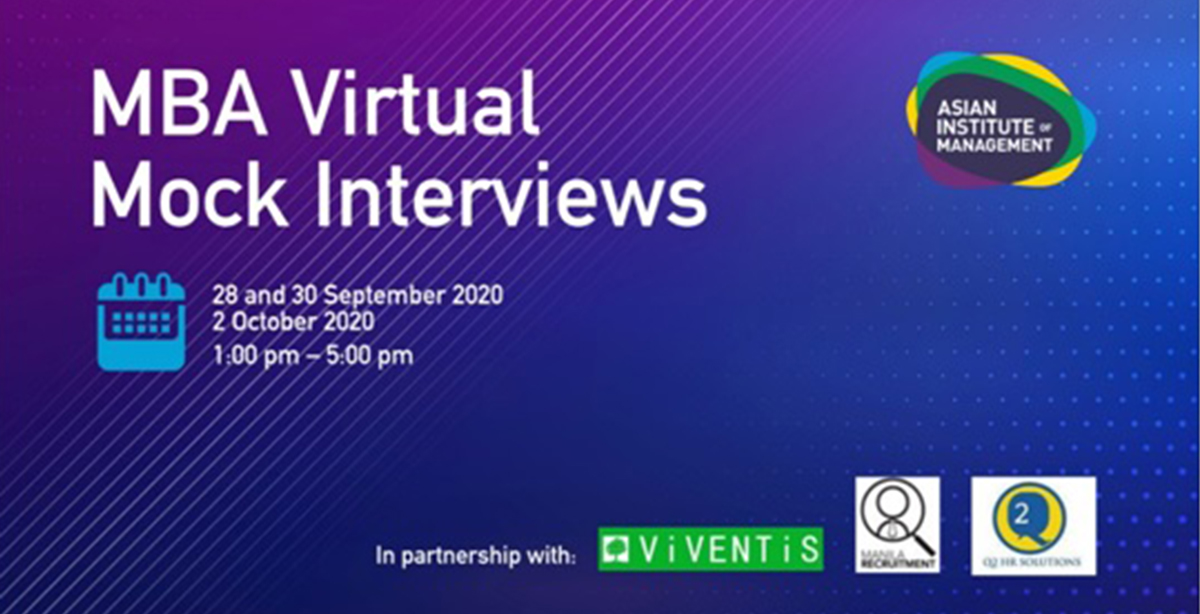 September 28 and 30, October 2, 2020
The Career Services Office recently held the "Virtual Mock Interview 2020" event in collaboration with Viventis Asia, Manila Recruitment, and Q2 HR Solutions. It was conducted over three half-days on September 28, 30, and October 2, 2020, attended by20 graduating students from the MBA class of 2020.
" I learned more about the HR interview process and know how to position myself in interviews."
The event provided a simulation of the real job interview process that enabled students to practice their communication skills, confidence, and professionalism in responding to situational, behavioral, and competency-based questions.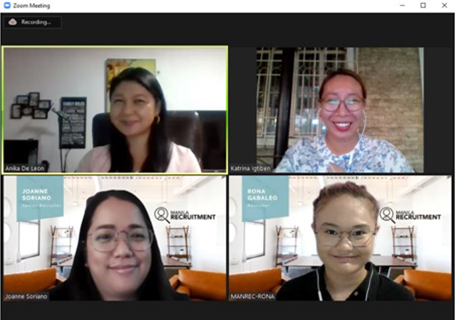 It also served as an avenue for the students to address questions directly to our Senior HR Consultants regarding the present status of the job market.Salary negotiations, market value, career shift advises, and leveraging strengths were thecommon topics discussed during the evaluation and feedback session. Knowing the projected job market situation, the current challenges, and how to work around these, especially this time of the pandemic, gave the students hope and inspiration to stay focused in their job search moving forward.
The next virtual mock interview event for the MBA class of 2021 will be tentatively scheduled towards end of September 2021. For interested companies who would like to participate as student assessors, please email us at  careerservices@aim.edu for more details.
Intentional Networking Event with Aboitiz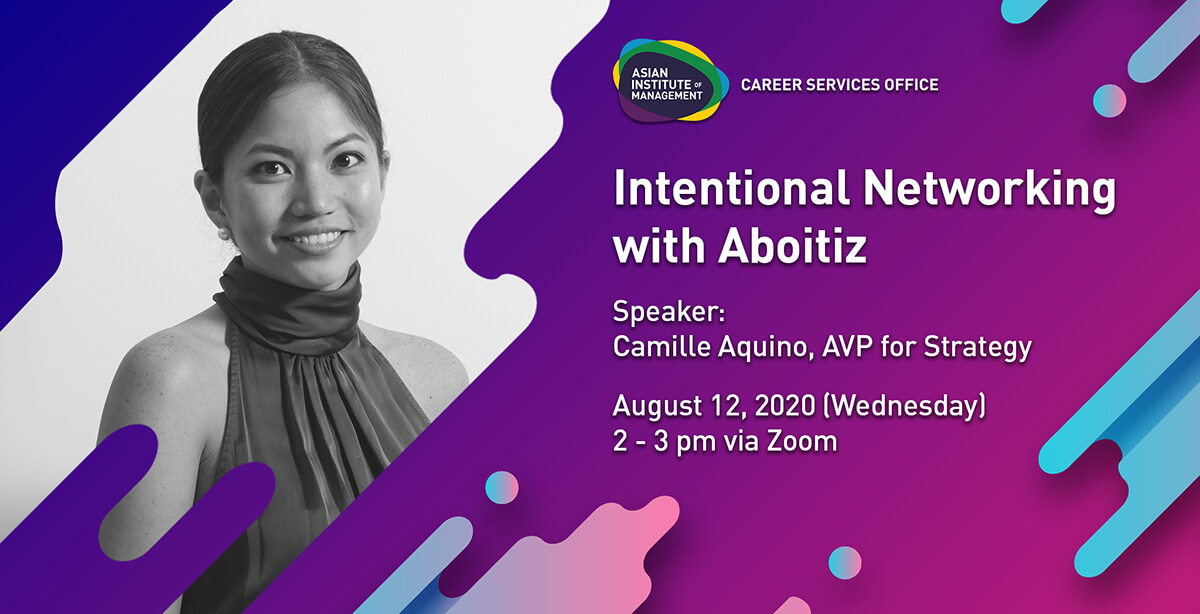 August 12, 2020
The second intentional networking session of the Career Services Office featured one of the Philippine's top conglomerate, Aboitiz Group, last August 12, 2020. Aboitiz operates multiple business units, including power, banking and finance, food, construction, infrastructure, and land industries. For this session, CSO invited Ms. Camille Aquino, the Assistant Vice President for Strategy for Aboitiz Equity Ventures (AEV). She has over 6 years of experience in brand building with P&G and recently has taken a corporate strategy function, developing portfolio strategies for AEV and across business units in Aboitiz.
At the beginning of the session, CSO was joined by the Aboitiz team from their Human Resources and Reputation Departments to facilitate a fun and engaging pulse check as a pre-session activity. The students were asked ice-breaker questions through online apps Mentimeter.com and Zoom Poll. Some of these questions gauged how much they know about Aboitiz and which business units they were interested in if they joined the conglomerate. Students responded with power, food, construction, and banking business units.
As a brand, strategy, and lifelong nation builder, AVP Camille Aquino started the session by generously sharing how Aboitiz is currently operating amidst the Covid19 pandemic. She discussed how businesses and professionals need to react along these three horizons: respond, recover and thrive. She even shared some confidential data and information in order for the students to understand and appreciate the process in a real-world setting. She also stressed the importance of technology in today's remote work set up.
At the end of her presentation, Camille gave very useful tips on how the future workforce, which includes our 23 MBA, MSIB and MSDS students in attendance and the rest of the students who received the link to the session's recording, should prepare and shift their mindset in order to adapt and survive. This includes taking care of one's physical and mental wellbeing.
Prior to the session, CSO shared the resumes of the students with the Aboitiz team for their reference. As a result, Aboitiz sent individual emails to inform the students of the group-wide job openings they currently have as they look to connect with possible candidates.
Intentional Networking event with MYNT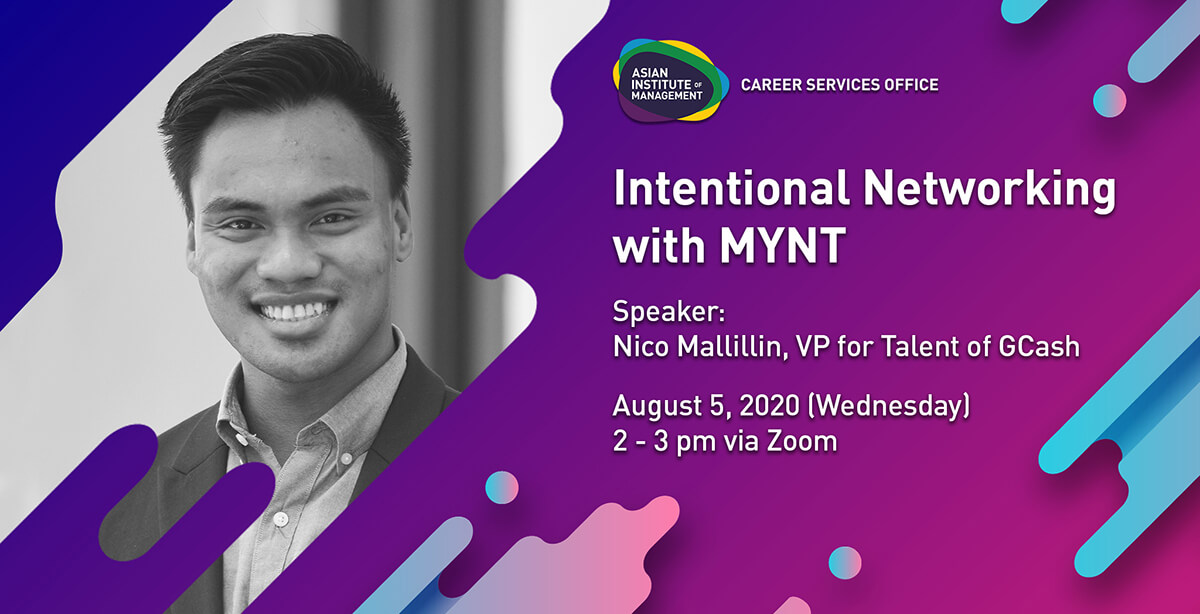 August 5, 2020
The Career Services Office successfully conducted its first Intentional Networking last August 5, 2020. The event was graced by Nico Mallinllin, SHRM-SCP, CHRP, Vice President for Talent of GCash. Nico handles end-to-end Talent Management of GCash, including Employer Branding, Talent Acquisition, Performance and Career Management, and Talent Development, which makes him the best resource speaker to the 42 MBA, MSDS, MSIB, and EMDRC students who attended the virtual session.
Nico Mallinllin shared how Mynt, a partnership between Globe Telecom, the Ayala Corporation, and Ant Financial, and which operates GCash, is becoming one of the fastest growing fintech solutions providers in the Philippines amidst the Covid19 pandemic. Nico gave a peek on how GCash operates and ensures safe and convenient mobile money transactions. At the end of his presentation, he provided the students with a list of career opportunities in GCash, including technical and non-technical roles. He also shared his contact details for the students to reach out to him even after the session.
Discussions about job openings in GCash included training for technical roles, which, as Nico explained, will be available for interested and qualified applicants. Nico also mentioned that students can visit their website at www.wearegcash.com or email careers@gcash.com for more job opportunities. Positive feedback were received by CSO from the students after the session.
Career Management webinar with LinkedIn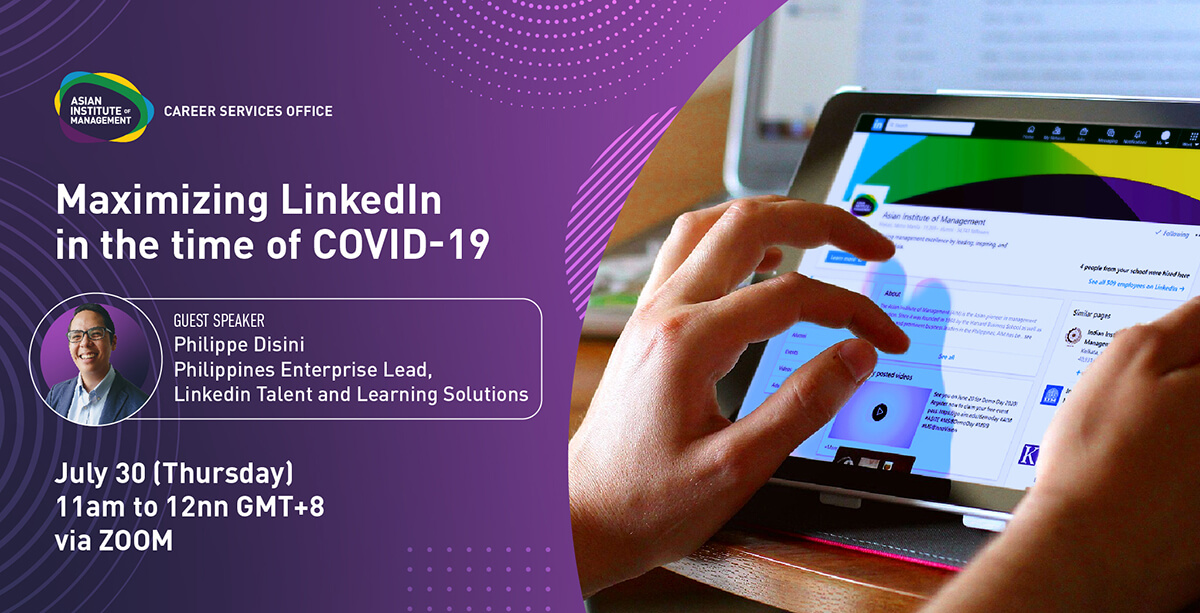 July 30, 2020
The Career Services Office, in collaboration with LinkedIn, conducted another Career Management Talk last July 30, 2020.  The webinar, led by Philippe Disini, Enterprise Lead of LinkedIn in the Philippines, highlighted the importance of leveraging one's professional presence in doing active job search, best practices in crafting a profile, and practical approach in reaching out to recruiters, to students from MBA, MSIB and MSDS programs.
Philippe gave a brief background of the LinkedIn platform as well as data on its current users that made LinkedIn one of the leading career search platforms for both job seekers and recruiters.  A walk through in profile building, including the importance of each section of the profile, was refreshing and insightful, resulting in a fun-filled exchange between the students and Philippe. Given the pandemic situation, Philippe also shared a recruiters' technique of talent pooling and shared practical tips and tricks for a candidate's profile to stand out among other job seekers. In closing, Philippe reiterated the significance of having a mindset to connect with a purpose and to be comfortable in actively sharing an authentic voice with a potential network, whether for career growth, job opportunity, or simply start a conversation.
Career Management webinar with John Clements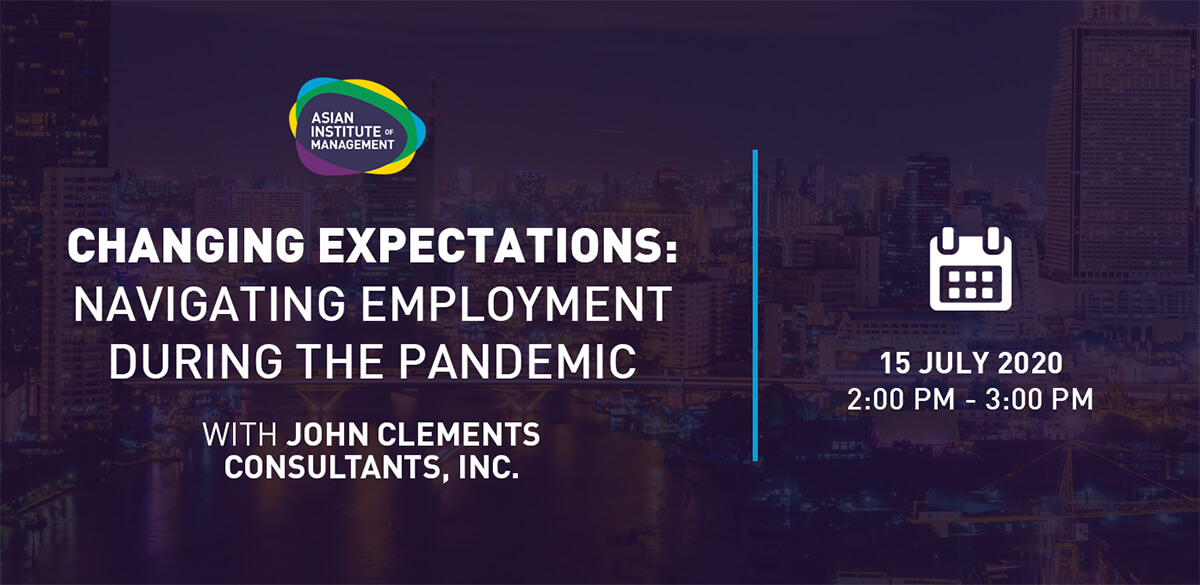 July 15, 2020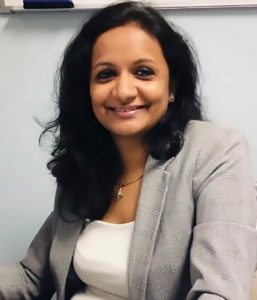 The Career Services Office held another well-attended Career Management webinar in partnership with John Clements, Inc. Recruitment expert, Shaily Maheshwari Anand, graciously discussed the evolving demands of various industries and different job insights in the new employment landscape. Shaily is a Human Resource professional with over 20 years of experience in the field of HR, ranging from Training, Organization Development, and Performance Management to Recruitment & Selection. She is currently employed by John Clements Consulting as a Business Unit Head in the Executive Search & Selection Division.
Initially, Shaily presented data about the current Philippine economic status and job market demands, providing a baseline to explain the possible fusion of job roles that may lead to new hybrid employment positions moving forward. The challenges in preparing and adapting to this new trend were addressed by Shaily, reminding the students that employment competition may be at its highest at this point, so one should keenly and actively continue looking for available opportunities. She presented various job roles that are in demand based on currently thriving industries, igniting enthusiasm among the students, especially on the discussion on taking part time roles, including contractual and project-based employment. Shaily emphasized the value of self-improvement through skills upgrade as well as agility and resiliency, particularly now in the evolution of a fast-paced working environment wherein one is expected to be able to keep up. At the end of the session, Shaily empowered the students by encouraging them to expand their horizons, be open to all career possibilities, and keep moving forward. After all, future employers will certainly be happy to have smart survivors on board. 
Virtual Mock Interviews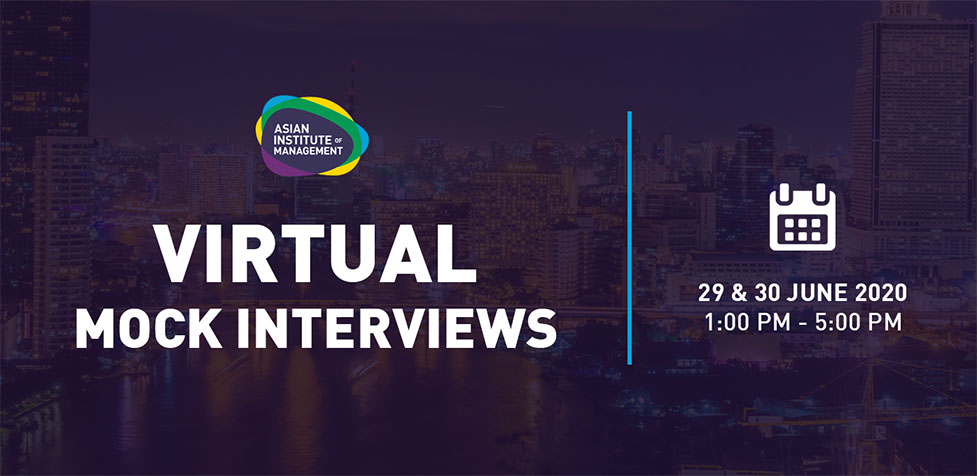 June 29 & 30, 2020
The Career Services Office recently conducted a "Virtual Mock Interview" last June 29-30 for the graduating classes of the Master of Science in Data Science (MSDS 2020) and Master of Science in Innovation and Business (MSIB 2020). This activity was to simulate a real job application and, enhance the communication and interview skills of our students to  relieve the anxiety and stress that an actual interview can bring.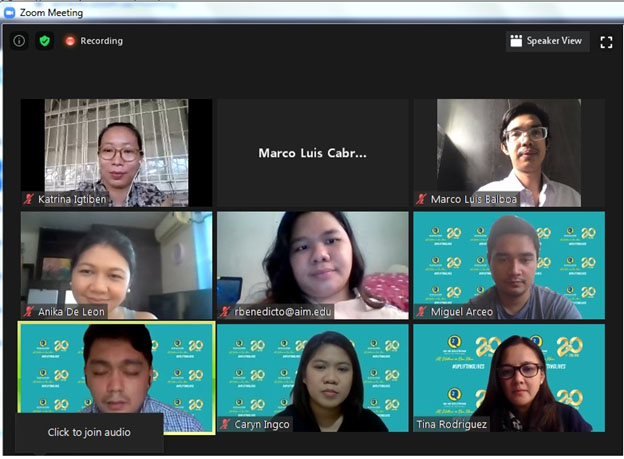 CSO invited  two Executive Search Firm Partners, that are also among the leading recruitment and HR consulting companies in the Philippines, Drake International Philippines and Q2 HR Solutions. They prepared our students for the actual  job employment Interview, salary negotiation and self branding. During the one-on-one interview, students were able to practice answering general, industry and competency-based questions. These questions ranged from standard, situational, and tough decision-making  topics.
Our students believe events like this help them to be employment ready. The interviewers  were very impressed with how our students were so prepared for during the event. Our partners are also looking to potentially endorse some of our students to their clients for possible job opportunities
Disrupting Finance with Data Science and AI?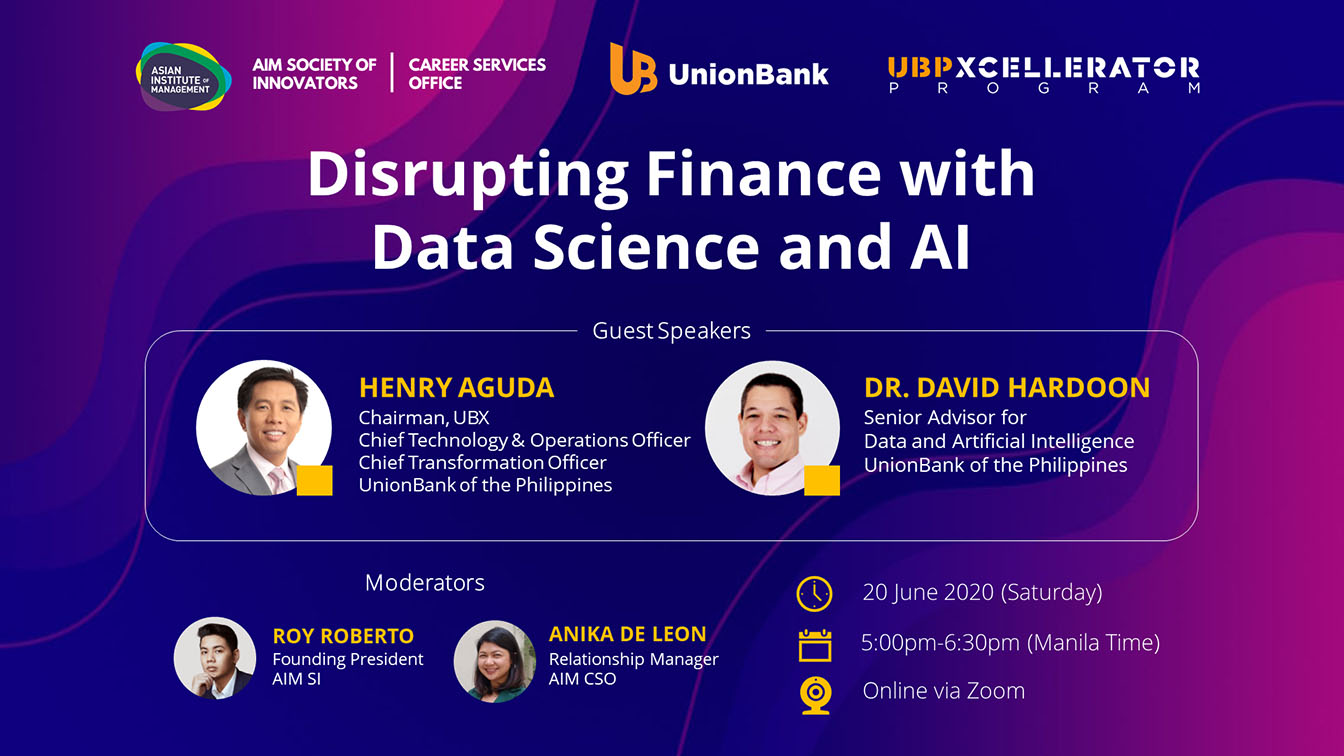 June 20, 2020
In partnership with UnionBank of the Philippines and the UBP Xcellerator Program, the AIM Society of Innovators and the Career Services Office held a webinar on "Disrupting Finance with Data Science and AI" on 20 June 2020.
It was a fun but insightful discussion with UnionBank's Chief Technology and Operations Officer cum Chief Transformation Office, Henry Aguda, and Senior Advisor for Data and Artificial Intelligence, David Hardoon, sharing how data science and artificial intelligence have been revolutionizing the finance industry, making banking simpler and more inclusive.
The Zoom session was attended by over 700 participants, while more than 600 unique views on Facebook live were registered from all around the world. The topic was so well-received that triggered curiosity, education, and ideas, generating almost 200 questions from the audience. Having the "right mindset" is the key driver to success, especially in these times when the implementation of new technologies is accelerated.
Employer Insider: What does it take to get hired during the Pandemic?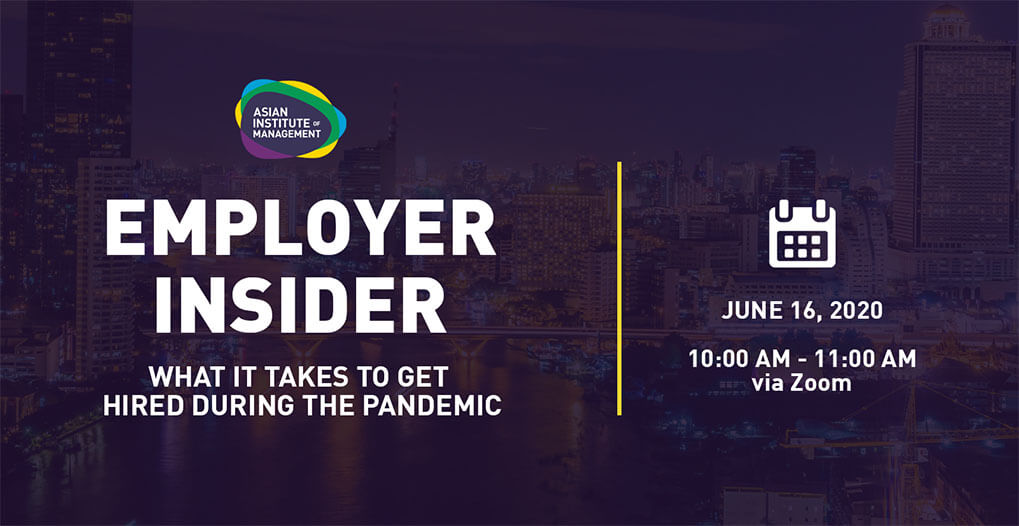 June 16, 2020
The Career Services Office hosted a webinar entitled "EMPLOYER INSIDER: What it takes to get hired during the Pandemic?". This was conducted on June 16, 2020, in partnership with Icon Executive Search. Topics like emerging career trends, sought-after roles, and essential skills in facing the new normal in the job market were discussed in the webinar. that was attended by students from the MBA, MSDS and MSIB programs.
The guest speaker, Mr. Patricio "Patt" Soyao Jr. is a seasoned professional headhunter and presently, the Managing Director and Founder of Icon Executive Asia. He shared different experiences reflecting the current realities faced by job seekers. In his perspective, downsizing is a reflexive reaction by different businesses to mitigate the effects of the crisis and will eventually lead to hybrid job roles, opportunities, and skills that companies will be looking for. Most businesses are rapidly adapting digitizing their services in the hopes of keeping their operations afloat, but many are also thriving, and even expanding, as their products and services are now suddenly in demand.
Finance controllers, consultants, business and data analysts as well as middle management roles, to name a few, are now in demand in various industries. These roles are great contributors as candidates are expected to have good business acumen, which is considered significantly important in keeping the company together. Even if unemployment data may continue to rise and competition at this time may have doubled compared to the pre-crisis situation, career opportunities will always be present and available.
The real challenge now is how to keep up with these demands? According to Patt, job seekers are expected to level up their skills, and companies are in search of candidates who display the following qualities: ability to make things happen; creativity in times of adversity, and learning agility. Integration of these skills and translation of knowledge into tangible outputs in the most efficient and quickest way possible is now the trend. After all, post crisis employment experiences will come out more valuable and would be the ultimate reflection of resiliency and perseverance in rising above the challenge.
CSO Virtual Career Coaching Session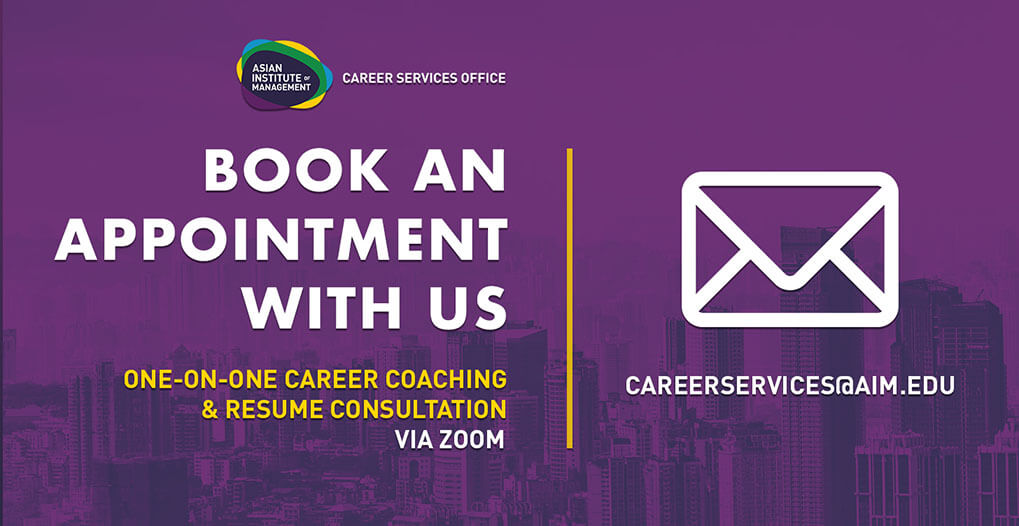 March 2020 – Present
The Enhance Community Quarantine and lock downs did not stop the Career Services Office (CSO) when it comes to one-on-one career coaching and resume critique sessions with the 2019 graduates and current students across degree programs. CSO saw the importance of being able to discuss its stakeholders' concerns, to create a workable career plan and strategy in these unsettled times.
The uncertainties brought about by the Covid-19 outbreak increases the students' anxiety in finding employment, but it doesn't mean that their job search options are dead. Speaking to a CSO staff can make them increase their hopes and change their focus on the brighter side.
Here are some testimonials from the students and recent graduate:
"CSO has been very active and responsive! They've been sending out email notifications for available job openings that we can apply for. They also made virtual coaching possible since March 17." – Jazel Castillo, MSIB 2020
"Aside from being accommodating and very responsive. AIM CSO particularly Marco gave me a whole different perspective on how to market myself as a professional that even though my experience is diverse he made me realize that my profile should be marketable by articulating my experiences and achievements in concise manner. Such a big help, keep it up!" -John Allen Baria, MSIB 2020
"I am thankful to CSO for the job opportunities that they send through our email because it becomes easier for me to check the said opportunities. I appreciate also the openness of Anika in listening to my updates during job hunting and her encouraging words helped me to be optimistic. Even while in community quarantine she made time to make some follow up about how I was affected by ECQ. I am truly grateful for the genuine support that they have for us." – from Marianne Leonafe Pastorpide, MDM 2019