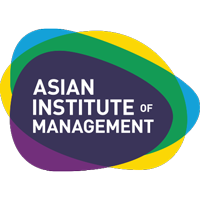 The Career Services Office (CSO) is dedicated to supporting the career needs of AIM students and alumni in the local, national, and global arenas. CSO has the resources to help its students and graduates reach their professional goals – from resume building, interviewing tips to career coaching, networking, and more.
Corporate partnerships are a critical part of AIM's success. Whether your company is looking for AIM graduates or actively shaping your business leaders, the Career Services Office serves as your gateway to engage with AIM:
AIM graduates to address your organization's human resource and talent acquisition requirements
AIM students for project internships and managerial immersions
AIM subject matter experts to help develop your company's talents
Our mutually beneficial partnership will also allow us to stage together hosting your meetings with students on-campus, company visit or networking sessions.

ON-CAMPUS RECRUITMENT
Once a year, various organizations visit AIM to interact with students in formal presentations and networking.  Through the Career Services Office, they conduct company presentations from industry or functional deep dive, management trainee programs to alumni careers.  CSO welcomes around 20 distinguished companies on campus each year and organizes more than 50 interviews in its dedicated interview room(s) at campus, onsite company premises, or virtual platforms for employers based outside of Manila or overseas.
For S.Y. 2021-2022, four companies have successfully conducted On-Campus Recruitment (OCR) activities for students between October and April 2022. These companies namely, CITI Philippines, Deloitte India, InfoSys APAC, and SolarTech Philippines.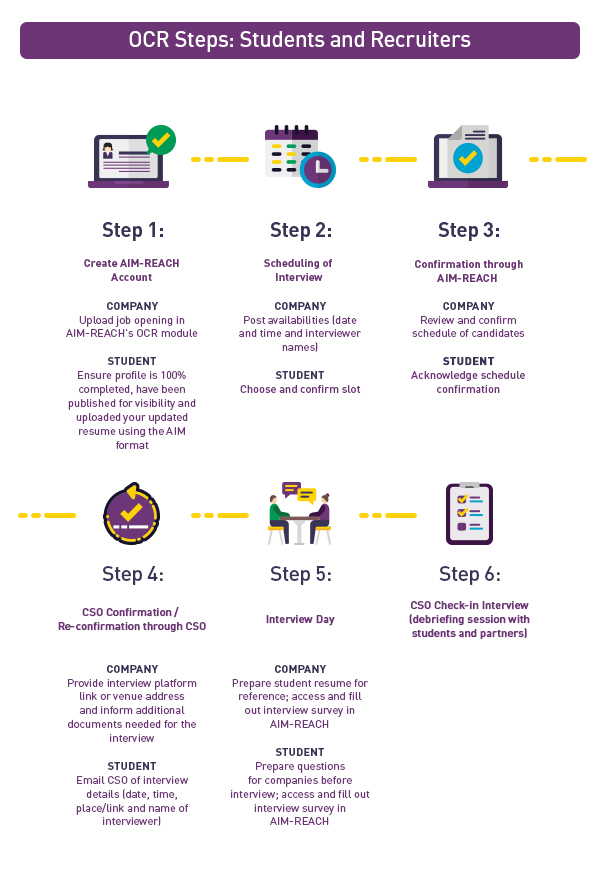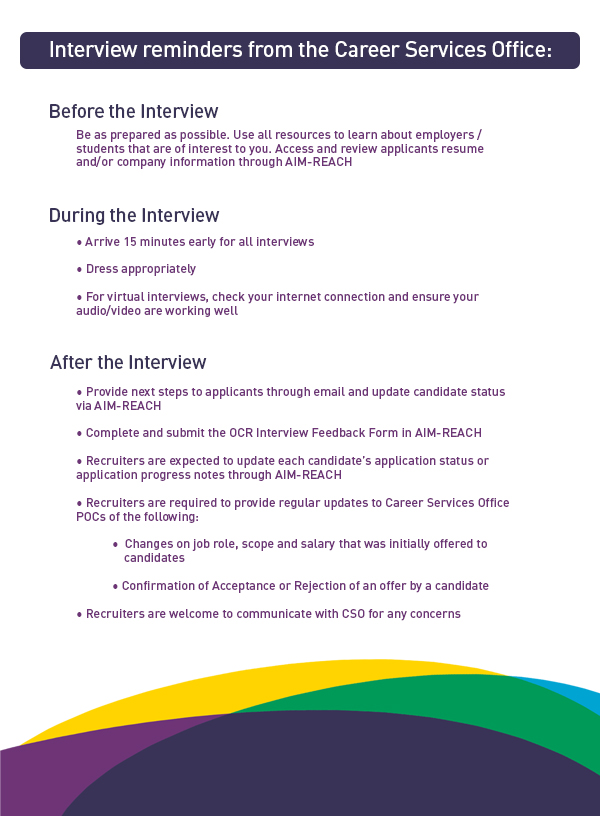 Reserve your slot now!
Should you have any concerns or clarifications, you may contact us at careerservices@aim.edu

EMPLOYER SURVEY 2022
Asian Institute of Management is keen to understand today's job market needs. Our mission is to sustain the growth of Asian businesses and societies by developing professional, entrepreneurial, and socially-responsible leaders and managers. The global pandemic has left an indelible mark on our people and our talent strategies. AIM through Career Services Office (CSO) is in the process of collecting information on the new talent trends and priorities across industries to help organizations recover, thrive continuously and ultimately transform sustainably.
If you have hired or intend to hire talents from AIM, please answer this quick survey.
WHY RECRUIT FROM AIM?
A LEGACY OF PROVEN LEADERSHIP
For over 50 years, AIM has continuously produced outstanding leaders who have played important roles in companies and governments around the world. By continuously adapting and evolving its management
programs to higher levels of excellence, AIM has educated and shaped men and women to do more than respond to rapid global changes: they are trained to break new ground and create the foundations for a strong, dynamic future.
AIM uses the case method as the primary mode of learning in all its programs. In collaboration with a seasoned professor, students analyze real life solutions in class discussions, and learn important concepts and skills. Students are drilled in evaluating around 300 cases during their course of study to sharpen their managerial skills.
The case method is complemented by lectures, immersion programs, walkabouts, field market research, online learning, improvisation acting, games and simulations.
The Management Research Report (MRR) is a major, original work that has always been the capstone of the AIM learning experience, the final output of which is a document that must be presented and defended before a panel. The work is undertaken from a senior level managerial perspective. It is supported by field data obtained through company research, personal interviews, and direct observation.
HOW TO RECRUIT FROM AIM
For many years, the Asian Institute of Management (AIM) in the Philippines has been preparing students for careers that address today's complex issues.
The Career Services Office (CSO) strives to bridge the gap between their academic experience and the world of work through internships and jobs that require them to use strong analytical skills to solve problems facing decision-makers in public, private and non-profit sectors. As an employer or corporate partner, you can engage with us through the following activities:
Talent Recruitment
On-campus/off-campus recruiting gives our partners the opportunity to conduct interviews. CSO can help build unique and creative hiring or brand-building strategies to source AIM talent.
Internship and Action Consulting Projects
Students can take up internships or consulting projects while in the program. The results and recommendations from these projects present practical solutions to real-world business challenges and opportunities.
Resumé Book and Job Portal
Our annual resumé compilation provides you with an exclusive access to AIM students actively seeking for job and internship opportunities. We also have a job portal which allows industry partners to post job requirements and receive applications.
Employer Branding
Showcase your company featuring your leaders and managers through company presentations. We also provide free targeted job postings for your organization and advertise your events to AIM students and alumni through our newsletters and other online communications.
Career Fairs and Networking Events
Cultivate professional relationships with our students through our regularly hosted events. Primarily designed to link our students and potential employers for job and internship opportunities.
Career Management and Industry Learning Sessions
Become our resource speakers as our students gain new understanding and appreciation of the nature of your work, passion, and expertise. The sessions may include topics such as corporate sustainability, investment banking, time management and personal branding.
Mentoring Program
Be one of the select alumni and seasoned professionals who guide tomorrow's leaders. Our mentoring program provides AIM students with the opportunity to interact and network with the industry leaders and change-makers they hope to emulate in the future.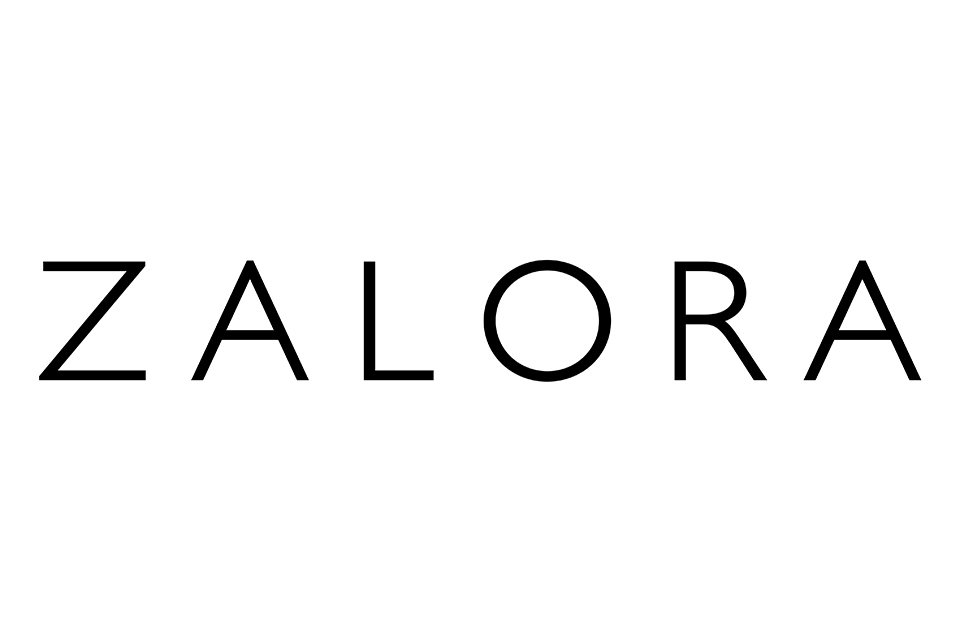 "We have partnered with AIM since 2016 and have attended several engagement activities hosted in their campus. We were impressed with the pr...