The fully online program runs on a synchronous method, allowing interaction and dynamic discussions among students for an immersive learning experience. Students are eased in this new method of learning with tutorials and orientations during the Pre-Program term. The core courses of the curriculum will be taught from terms one to five and will culminate in a capstone project by the sixth term where they will apply all the knowledge and skills they picked up.
Online MBA's adaptive approach to learning combined with our dynamic program transforms students into action-oriented managers who are ready to lead their organizations to new heights.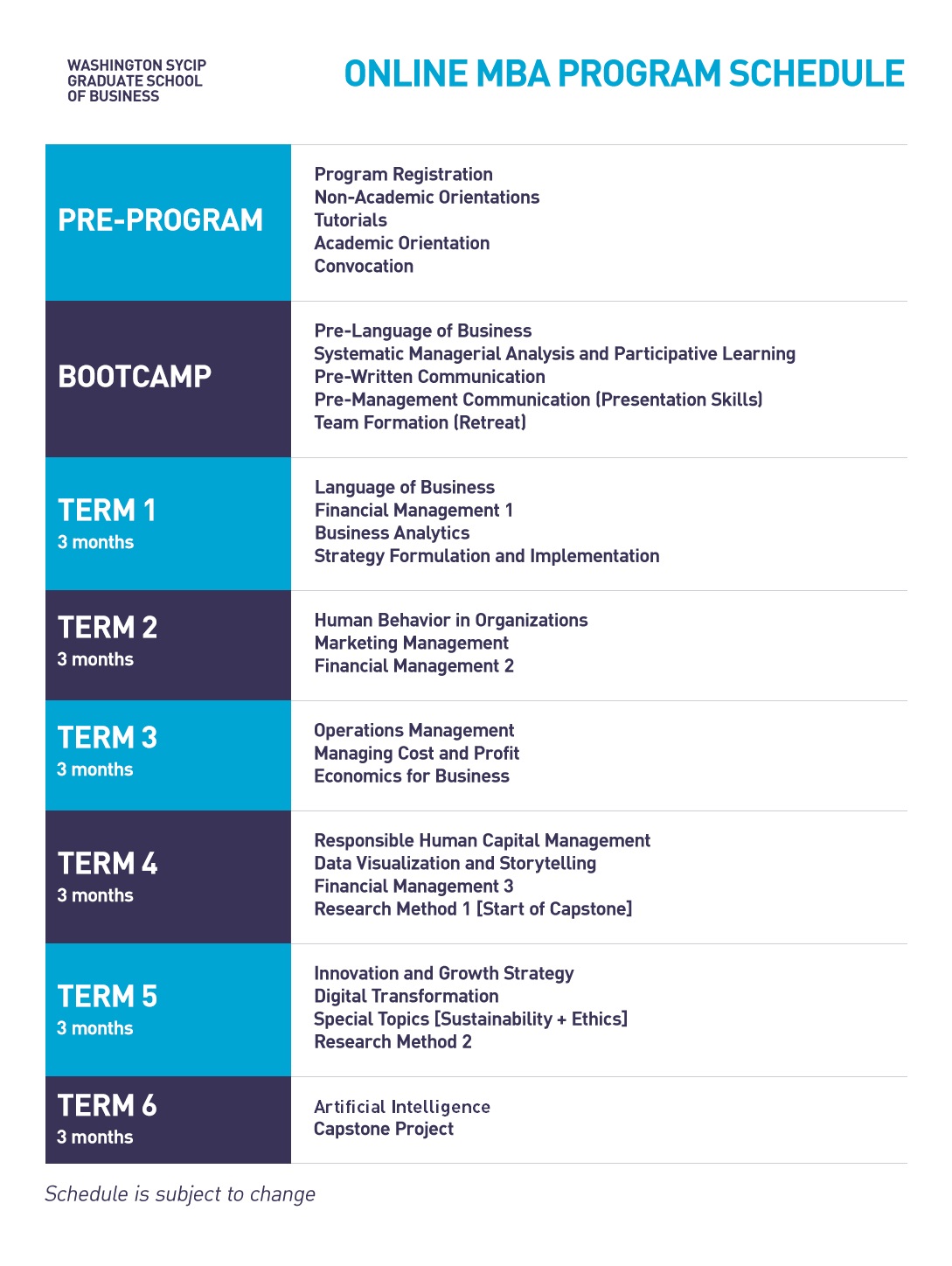 WHY CHOOSE AIM?
Lead. Inspire. Transform.
Our role is to empower entrepreneurs, business, and development leaders to initiate sustainable social, political, technological, and economic development. To achieve this, the Institute is categorically Asian, with a strong concentration on Southeast Asia and the ASEAN economic community. Our programs are designed for Asian needs, our approach attuned to Asian management and responsive to peculiar Asian issues, while enhanced by a global perspective.
Business and development management at the Institute are exemplified by the following:
Skills and Knowledge to Unlock Asia
Our curricula, courses, and teaching materials have been developed for the conditions and needs of both private and public Asian enterprises and are offered not only in the Philippines but in other Asian countries as well.
A Practitioner-Oriented approach
Our academically and professionally qualified faculty have a broad regional outlook and wide experience in and knowledge of Asian management and practice. Our approach is practitioner-oriented, and our relationships with organizations all over the region are fundamental to the development and enhancement of our programs and activities.
Thought Leadership
Our research centers form a nexus where the private sector, government, and civil society connect, converge, and synergize. We draw support from the region in terms of financial contributions and participation by the management and business community in AIM's teaching and research activities.
Practical Learning with the Case Study Method
Our programs are designed for practical application in the real world. To advance this objective, we use the case method as a primary mode of teaching and learning. Under this method, which was adapted from the Harvard Business School's own system, students analyze actual business scenarios to hone their analytical, decision-making, and communication skills. The method also encourages lively discussions between classmates, resulting in a robust and dynamic learning environment.
Learning Teams
To promote collaborative learning and leadership, as well as foster the school's multicultural ethos amongst students, we assign each one to a 'learning team' or "can group." These teams give students a diverse learning environment, and provide each one the opportunity to experience and benefit from multi-faceted perspectives.
INTERNATIONAL PROGRAMS

Dual Degree Program
This provides AIM students who have completed their Online MBA degree the opportunity to pursue Master of Advanced Management (MAM) degree at YALE School of Management, through coordination with WSGSB. Students with this dual degree gain an even greater competitive edge over their peers and can count on accelerating their careers upon graduation.
Business Competitions
Qualified Online MBA students can join local and international business competitions during the program.
Small Network Online Courses
Online MBA Students may participate in Small Network Online Courses (SNOCs) offered by the Global Network for Advanced Management (GNAM). These courses are offered virtually by a member school. The courses connect students from multiple member schools online for lectures and discussions, and collaborative team projects, developing teamwork skills and cross-cultural perspectives. For more information on GNAM member schools, visit: https://globalnetwork.io/members.
Global Virtual Teams
Become part of the Yale School of Management course, Global Virtual Teams (GVT). The GVT aims to engage students from GNAM network schools through live interactive learning activities. Qualified Online MBA students will get the chance to take part in a "global virtual team" and work with other GNAM students on projects that involve group analysis and decision-making to develop the appreciation for team building across cultures and time zones.
24 Jul 2023
For Foreign Applicants
24 Jul 2023
For Filipino Applicants