ONLINE MBA PROGRAM SCHEDULE*
---
The Online MBA's adaptive approach to learning combined with our dynamic program transforms students into action-oriented managers who are ready to lead their organizations to new heights. Through the unique case method integrated in the curriculum, students are rigorously engaged in their learning experiences, equipped with numeric, creative, analytical, and critical-thinking skills, established with foundational business communication and collaboration abilities, and empowered with the capacity and competency to create value to their respective industries; and make a positive impact to an increasingly volatile, uncertain, complex, and ambiguous business environment.
The program seeks to help students become sharp, forward-thinking professionals who become eminent and influential business leaders while balancing time for other priorities. The program also helps establish future-proof careers since its graduates develop valuable soft and hard skills required in highly-technical careers.
The fully online program runs on a synchronous method, allowing interaction and dynamic discussions among students for an immersive learning experience. Students are eased in this new method of learning with tutorials and orientations during the Pre-Program term. The core courses of the curriculum will be taught from terms one to five and will culminate in a capstone project by the sixth term where they will apply all the knowledge and skills they picked up.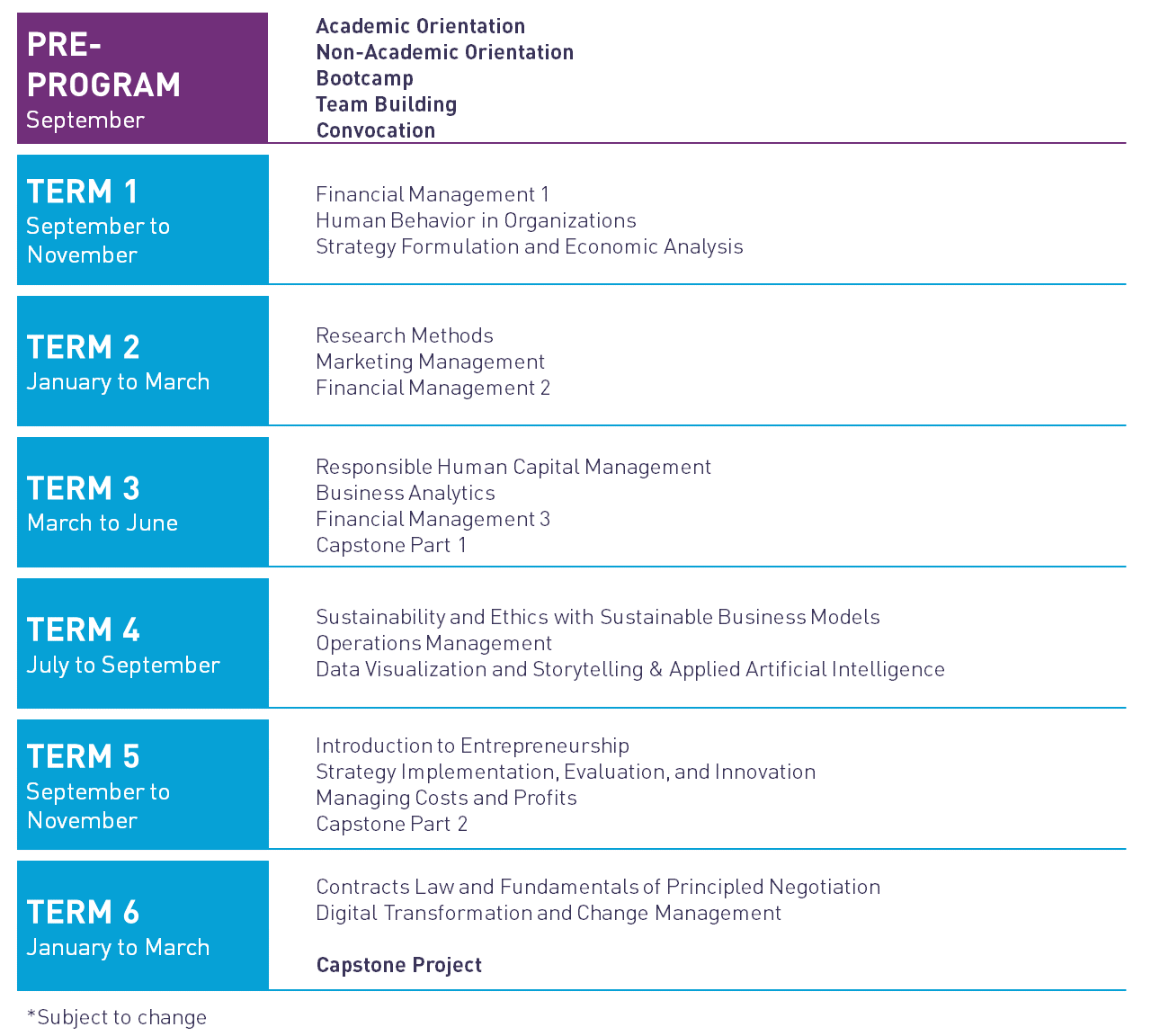 Access to Pre-program activities will only be available to students who have settled the registration fee of USD 1,000, which is deductible from the total program fee, upon acceptance to the program.
To fill the gap between the students' previous studies and the years spent away from the academe, students take preparatory courses during bootcamp. The objective of the Bootcamp is to ease students into the pace and demands of the program by refreshing their knowledge of basic management concepts, introducing them to the dynamics of the case method and exposing them to different frameworks and strategies that would help them synthesize and analyze information quickly and effectively.
The Capstone Project is a major requirement that students must complete prior to graduation. It is the equivalent of a thesis. It is both practical and managerial, reflecting AIM's tradition of developing skilled management practitioners. The Capstone Project is designed to be a seminal experience for students and is intended to shape them just as much as the quantitative and qualitative subjects of the program do. It is a 4-unit application-oriented course that consists of identifying a real-world business challenge or issue posed by organizations to the Online MBA students who are expected to:
Identify issues faced by the organization and its root cause;
Provide a diagnosis of the business challenge and recommend solutions to the specific business issue/challenge; and
Generate a detailed report and implementation plan.
Students are required to gather primary data from the field and to look at company issues through a managerial or senior executive perspective. There is a written report component to the Capstone Project that necessitates consummate communication and presentation skills from the student. The written report must be presented and defended before a panel consisting of a faculty chair, an adviser, and an executive proponent.
INTERNATIONAL OPPORTUNITIES
---
Online MBA students are given opportunities immerse themselves in other multicultural environments to further heighten their collaborative learning experience and expand their networks.
Dual Degree Program 
The Dual Degree Program provides Online MBA graduates with the opportunity to pursue Master of Advanced Management (MAM) degree at Yale SOM to complement their Online MBA studies. Graduates with this dual degree gain an even greater competitive edge over their peers and can count on accelerating their careers upon graduation. AIM is in coordination with Yale SOM, harnessing the institution's offerings for advancing skills and management development of our Online MBA graduates.
Small Network Online Courses
Small Network Online Courses (SNOC) are courses offered virtually by a Global Network for Advanced Management (GNAM) network school and open to students from throughout the network. Students are linked through an online platform and video conferencing for lectures and discussions. They also collaborate virtually in substantial team projects, developing teamwork skills and cross-cultural perspectives. SNOCs enroll a select group of top-tier MBA students engaged in a common effort to build management skills.
Global Virtual Teams
Become part of the Yale School of Management course, Global Virtual Teams (GVT). The GVT aims to engage students from GNAM network school through live interactive learning activities. Qualified Online MBA students will get the chance to take part in a "global virtual team" and work with other GNAM students on projects that involve group analysis and decision-making to develop the appreciation for team building across cultures and time zones.
Business Competitions
Participation in international business competitions is an extracurricular activity that gives qualified Online MBA students the opportunity to compete with other business school students in Asia and the United States of America.
The Dual Degree Program, Small Network Online Courses, and Global Virtual Teams are offered in the program as add-on activities on a limited basis.
21 May 2024
1st Round Deadline For Foreign Citizen Applicants
21 May 2024
1st Round Deadline For Filipino Applicants