MASTER IN INTERNATIONAL BUSINESS LAW PROGRAM SCHEDULE*
---
The program recognizes the rapidly changing nature of the international business environment as it equips graduates with the skills and knowledge to adapt to these changes effectively. By emphasizing comparative research and problem-solving skills, individuals gain the ability to analyze complex scenarios, propose innovative solutions, and respond to evolving legal and business challenges. This adaptability is highly sought after by employers in various industries, making the program attractive to individuals seeking diverse career opportunities beyond traditional legal roles. This practical approach ensures that individuals without prior legal experience can excel in international business roles and make informed decisions.
With diverse teaching staff and a curriculum that emphasizes different legal traditions and jurisdictions, the program fosters a global perspective and cultural awareness among its students. This exposure to various legal systems and business practices prepares individuals to navigate the complexities of the international business arena, engage effectively with diverse stakeholders, and adapt to different cultural contexts. Through interactive case studies, simulations, and real-world projects, students develop critical problem-solving abilities, negotiation skills, and business acumen.
The program offers extensive networking opportunities with professionals from various industries, including law, business, and academia. Participants have the chance to connect with experts, guest speakers, and alumni who have excelled in international business roles. These connections not only enhance career prospects but also provide valuable insights and mentorship to individuals who may not have initially considered a legal career. Students have access to career counseling and skill-building sessions to enhance their overall competencies. This holistic approach ensures that individuals not only gain specialized legal knowledge but also develop the soft skills necessary for success in international business environments.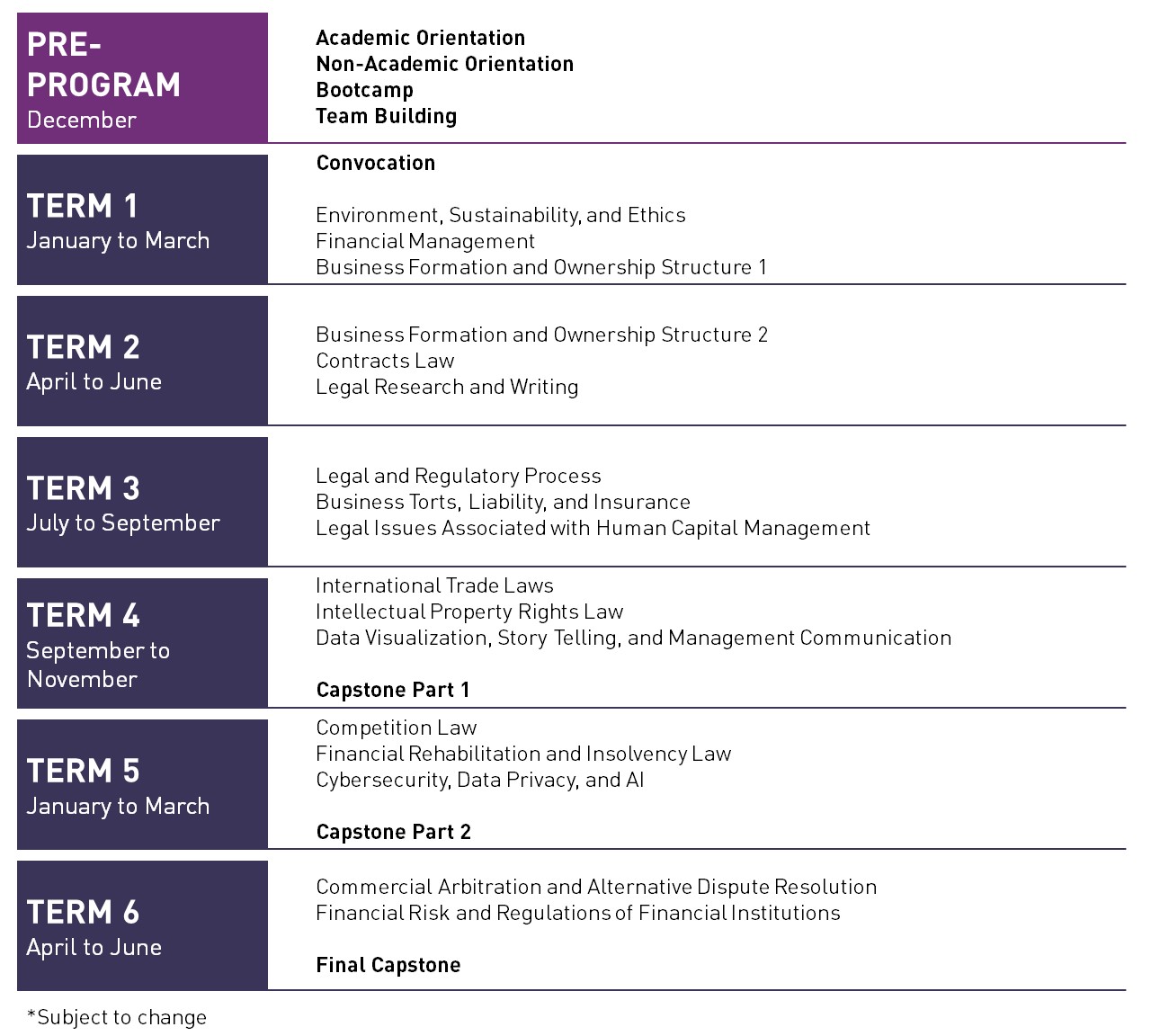 Access to Pre-program activities will only be available to students who have settled the registration fee of USD 1,000, which is deductible from the total program fee, upon acceptance to the program.
To fill the gap between the students' previous studies and the years spent away from the academe, students take preparatory courses during bootcamp. The objective of the Bootcamp is to ease students into the pace and demands of the program by refreshing their knowledge of basic management concepts, introducing them to the dynamics of the case method and exposing them to different frameworks and strategies that would help them synthesize and analyze information quickly and effectively.
The Capstone Project is a major requirement that students must complete prior to graduation. It is the equivalent of a thesis. It is both practical and managerial, reflecting AIM's tradition of developing skilled management practitioners. The Capstone Project is designed to be a seminal experience for students and is intended to shape them just as much as the quantitative and qualitative subjects of the program do. It is a 4-unit application-oriented course that consists of identifying a real-world business challenge or issue posed by organizations to the Master in International Business Law students who are expected to:
Identify issues faced by the organization and its root cause;
Provide a diagnosis of the business challenge and recommend solutions to the specific business issue/challenge; and
Generate a detailed report and implementation plan.
Students are required to gather primary data from the field and to look at company issues through a managerial or senior executive perspective. There is a written report component to the Capstone Project that necessitates consummate communication and presentation skills from the student. The written report must be presented and defended before a panel consisting of a faculty chair, an adviser, and an executive proponent.
27 Sep 2023
For Foreign Citizen Applicants
27 Sep 2023
For Filipino Applicants