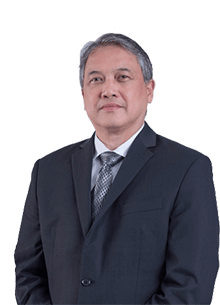 FELIPE CALDERON, CPA, CMA, PhD
Dr. Calderon has 34 years banking experience. The first eight years were spent at the Philippine National Bank and followed by four years in two banks in Hong Kong. He later worked for 22 years at the Business Development Bank of Canada in Vancouver.
He holds a BSc in Agribusiness Management from the University of the Philippines in Los Baños and an MSc in International Banking and Financial Studies from Heriot-Watt University in Scotland. He obtained his PhD in Management from the University of St. Gallen in Switzerland, where his thesis was on the topic of sustainable lending. He is also a Canadian CPA and CMA.
Dr. Calderon is currently the Head of the Washington SyCip Graduate School of Business and the Executive Director of the Gov. Jose B. Fernandez, Jr. Center for Sustainable Finance.